FRANSCHHOEK JEWEL GOES TO MARKET
Perfectly framed by towering mountains and magnificent vineyards
Sunday 15th of July 2018
First established in the late 17th century by French Huguenot refugees, who marvelled at the fertile haven they discovered, the area known today as Franschhoek was transformed as a consequence of their expert winemaking and love of French culture and food. Less than an hour away from Cape Town, this charming Gourmet Capital is perfectly framed between towering mountains and magnificent vineyards.
Franschhoek is internationally renowned for its many iconic wine farms which are without doubt, some of the country's most desirable and valuable properties. One of these is the exquisite, historic, 47 hectare wine and olive farm, Burgundy Bourgogne, which is available for its next fortunate owner through Pam Golding Properties' elite Private Office division.
Established in 1694, Burgundy Bourgogne takes its name from the French Huguenot family who first tamed the land and transformed it into one of South Africa's earliest wine and olive farms.

At a glance, the property is trademarked by two grand residences, three cottages, 20 hectares of impressive vineyards and three hectares of olive groves.
The Olive Groves and Vineyards
Set on the mountainside, at the highest point of elevation, lie the olive groves and vineyards of this magnificent estate. Accessible by foot, horseback or 4×4, the spectacular views ensure that the effort of getting to these slopes is more than worth it.
The beautiful olive trees of Burgundy Bourgogne are well known for their yield of award-winning cold-pressed extra virgin olive oil, while the 20 hectare vineyard currently produces winemaking grapes used by several nearby wineries.
Impressive Residences
Originally the farm cellar, which dates back to 1791, the large yet homely Main House has been restored into an expansive luxury residence covering 1031m2 that includes all the extras that would go with a celebrity-home of today: a designer kitchen; wine cellar; bar and snooker room; indoor gym and steam room; underfloor heating; air conditioning; guest cottage and large pool.
The second large residence, Burgundy Bourgogne's Manor House, first built in 1791 and expertly restored by master craftsmen in 2001, is recognised as a National Monument of the Republic of South Africa.
The grand old Cape Dutch home covering 261m2 combines the classic gabled frontage and thatch roof with a contemporary interior and the convenience of current technology.
Finally, three quaint 18th century-inspired cottages, privately situated away from the Main and Manor Houses, with their own picture-perfect views and private pools, have been beautifully decorated to make the perfect getaway for the discerning weekender.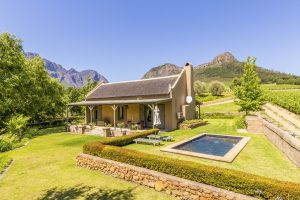 Rented throughout the year, the cottages provide a healthy income for the estate and the more action-orientated visitor will be delighted to discover a boule court, floodlit tennis court, horse-riding and a fishing dam stocked with trout.
Quite simply, acquiring Burgundy Bourgogne is one of those rare, once in a lifetime opportunities to own a small piece of heaven.
For more information, or to make an appointment to view this exceptional R135 million estate, contact Tom Scott, tom.scott@pamgolding.co.za or 071 6736146 from Pam Golding Properties' Private Office.
Words by Trivesh Vassen & Niki Jackson
Posted by Niki Jackson