Harbour Island – where the holiday never ends
Imagine waking up each morning to the smell of fresh sea air, the call of seagulls and the spectacular sight of luxury yachts moored outside your front door? Or better yet, what if you could walk across your patio, onto your own personal jetty with two 10 metre-long private moorings, to step onto your own yacht?
"Harbour Island, an exclusive estate in Gordon's Bay, offers all of this and more within a world-class marina. With its superlative coastal lifestyle, Harbour Island creates a holiday ambience that prevails throughout the year," says Lizette Botha, Pam Golding Properties agent for the area.
Pam Golding Properties holds an exclusive mandate to market an exceptional home that will allow the owner to enjoy the essence of coastal living, within this sought-after and secure estate, every day.
Listed for R10.65 million, the multi-level home is the epitome of modern living, comfort and elegance, from the double-volume glass entrance foyer to the welcoming lounges and patios. Contemporary in design, the home incorporates 666m2 of modern living space and offers extraordinary views, says Botha.
With six bedrooms, all en suite, and a sizeable pool deck area, this impressive home is ideal for a large family that enjoys entertaining. The roof terrace with braai facilities, a loft room and gym as well as a heated Jacuzzi and shower, is the ideal spot to relax as a family. It is also an excellent vantage point for views of the whole marina – which is particularly beautiful at night.
Luxury features include a wine cellar and cooling system, a multi-room home theatre system, a dumbwaiter elevator to move goods between the floors and a designer lap pool with its own water feature. There is also underfloor heating in all bedrooms, bathrooms, the kitchen and the formal lounge and family room. Also worth mentioning is the impressive staircase with glass balustrade that leads to the TV lounge on the first floor.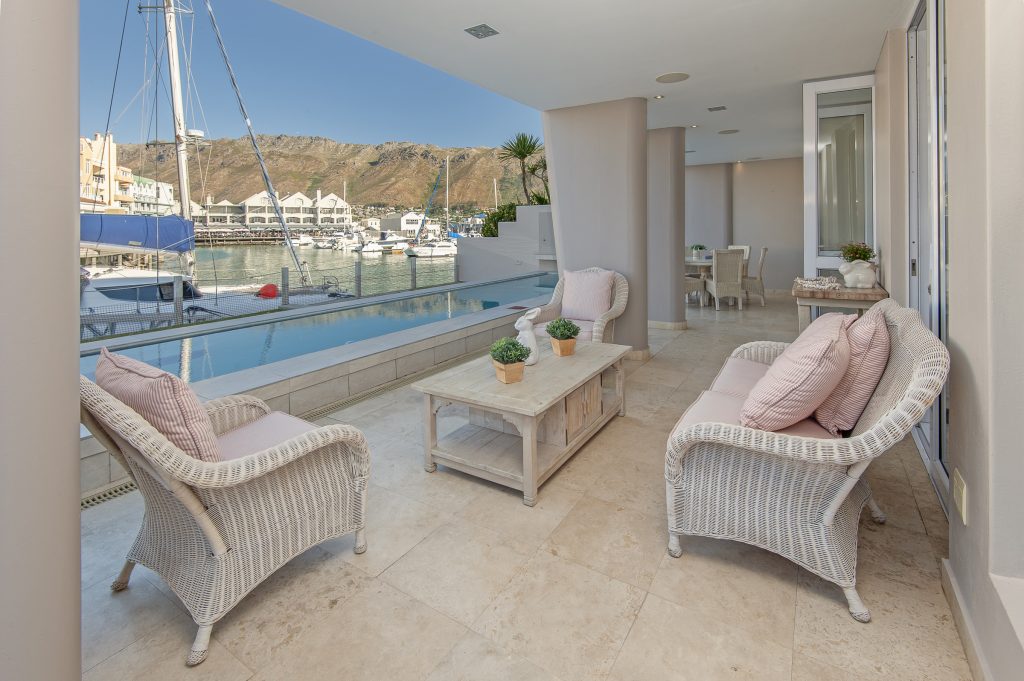 "What makes this home unique is that it offers two 10-metre long private moorings right in front of the house. It also allows for quick access to the commercial offering at Harbour Island, which includes superb restaurants, shops and the four-star Krystal Beach Hotel and Spa," says Thea Albertyn, Pam Golding Properties agent for the area.
The Helderberg region has enjoyed immense growth in recent years, with increased commercial and business activity. Harbour Island, well-located in Gordon's Bay just a 40-minute drive from Cape Town, has proven to be a sound financial investment. According to Lightstone property data, house prices within the estate have grown by just over 66% over the past five years.
Not only does Harbour Island offer state-of-the-art security and controlled access, but it is set within a world-class, Blue Flag marina – one of only eight in the Western Cape – that places it in the same class as the V&A Waterfront and Thesen Harbour Town in Knysna. This means that water sports feature prominently, and residents are able to take part in various activities, including jet skiing, snorkeling, boating, water skiing and fishing, among others. For those wanting to take things a bit slower, the marina is the ideal starting point for a relaxing sunset cruise on a catamaran or motor yacht.
Popular beaches, such as Bikini Beach, are nearby and there are plenty of hiking trails and mountain biking routes in the area. Cool off in the natural rock pools of Crystal Pools or explore the Hottentots Holland Mountain on the one of the many trails that start from the Helderberg Nature Reserve.
"Harbour Island is more than an estate; it is a lifestyle that appeals to active and vibrant families, with a love of water sports, wanting to enjoy a coastal setting in a safe environment," says Botha.
For more information, contact Lizette Botha 084 440 1057 lizette.botha@pamgolding.co.za or Thea Albertyn 082 925 5510 thea.albertyn@pamgolding.co.za
Posted by Anel Lewis