Oaklands' new cluster homes designed for luxury living
"The Oakland"offers buyers exclusivity in a secure environment
Friday 18th of October 2019
Setting a new standard in luxury living, "The Oakland" in northern Johannesburg is a new residential development comprising just three luxury designer homes.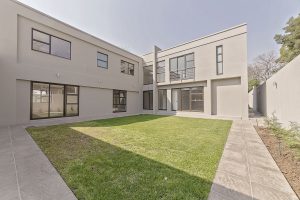 "As there are only three homes, buyers can enjoy the perks of having their own private havens within a smaller community environment," says Brenda Courtney, Pam Golding Properties area specialist.
Oaklands is a small affluent suburb neighbouring Houghton, Norwood, Orchards and The Gardens. It is conveniently located close to the M1 highway as well as the Rosebank and Sandton CBDs. "Buyers looking for exclusivity will find that "The Oakland" provides just that."
The contemporary cluster homes are situated within a secure environment and offer both simplex and double storey options built to suit the buyers' needs. Prices range from R6.5 million with transfer duty payable on land transfer only. Land prices are priced at R2.5 million for 930m2 stands, with building costs at R4 million for standard prime cost.
There are a number of local amenities including medical and beauty facilities, numerous places of worship, both Mosques and the Great Park Synagogue in the area. A choice of excellent schools includes H.A Jack Primary School, St Mary's School for Girls, Orchards Primary School, Waverley Girls' High School, Norwood Primary School, Highlands North Boys High School, The Torah Academy Primary and High School, Maryvale College, Hirch Lyons School, Paterson Park School, King David Schools and St Stithians among others.
The Melrose Bird Sanctuary Park, Houghton Golf Club and The Wanderers Club are great for entertainment and excursions. Oaklands Shopping Centre is a small but convenient retail centre which caters to everyday needs. The centre is home to the famous Italian eatery, Tortellino D'Oro and the Oaklands Farm Supply, known for its fresh produce, flowers, with a wide range of kosher products, among other stores. Other shopping centres nearby include Sandton City, Melrose Arch, Killarney Mall and Norwood Mall.
"Oaklands is a trendy community-oriented suburb, and "The Oakland" offers buyers a rare opportunity to build their dream home within this sought-after gem of a location in Johannesburg. There haven't been many new residential developments in the area in years, which makes "The Oakland" a unique luxury addition to the suburb," she adds.
For more information, contact Brenda Courtney on 011 380 0000/ 083 649 9017, or email: brenda.courtney@pamgolding.co.za
Posted by Denise Mhlanga