US economy and safe haven currency a strong drawcard for South Africans seeking residency via Green Card
Investment in prime real estate projects cornerstone of EB-5 Programme, says Pam Golding International
Thursday 16th of April 2020
As the world begins to deal with the economic fallout resulting from a global pandemic, it has brought home to many the fact that the US dollar retains its stature as the world's safe haven currency.
Says Chris Immelman, who heads up Pam Golding International: "For any South African seeking a rand hedge, it makes perfect sense to invest in what is arguably the world's best economy – the United States.
"As a result, the Immigrant Investor EB-5 Programme which provides the opportunity to acquire US citizenship via investment in a property venture has come to the fore. It remains the pre-eminent programme to gain lawful and legitimate access to the USA for you and your family to work, live, play and study there.
"According to our partners in this venture, American Dream, who offer a turnkey service with access to the EB-5 Programme, South Africans are showing increasing interest in what is the quickest way to obtain your US Green Card, with citizenship after just five years. The investment threshold for the programme is $900 000.
"With 100% success rate in applications, since 2007 they have helped over 300 South African families with this programme with the projects invested in to date having a similar success rate.
"This underlines the fact that it's extremely important for those wishing to enter the EB-5 Programme to work with a credible, reliable and experienced company. Bear in mind that what really matters is that you engage with a company which is able to deliver a Green Card, and which can ensure that the funds are safely invested – which in turn assures you of a full refund upon maturity of the investment. Through our partnership with American Dream, we offer this and have established a reputation as leaders in promoting this programme to South Africans."
A trend noted is that most EB-5 investors from South Africa tend to invest in projects on the East Coast of the US in states like Florida, which is very tax friendly and has a lower cost of living than on the West Coast. In addition, the East Coast offers ease of travel from South Africa.
South Florida is considered one of the most appealing places to live in the US, with idyllic weather, appealing environs, diverse culture and a strong immigrant community and importantly, with a booming residential and commercial real estate market further fuelled by low mortgage rates. It's a sought-after location among a broad cross-section of home buyers including families, up and coming professionals, retirees and those relocating from cooler parts of the US.
Adds Immelman: "On a recent visit to the USA, we met with our US development partners – Gold Coast Florida Regional Centre, who happen to be former South Africans now residing in Florida, and who have a wealth of international experience in hugely successful development projects as well as an in-depth understanding of the South African market. They are also an approved regional centre by the US Citizenship and Immigration Services.
"Key benefits of the EB-5 Programme is that there is no need to be sponsored by a relative or an employer, you can live and work anywhere in the US, travel internationally and return without special permission, and access the world's best universities at the same tuition rates offered to US citizens."
Immelman says one of the projects currently available for investment is prestigious Hollywood Circle, a prime located, 25-storey, mixed-use real estate project which is a landmark on Young Circle in vibrant Downtown Hollywood, Florida. Situated between the downtown districts of greater Miami and greater Fort Lauderdale, Hollywood Circle will include 397 residential units, a uniquely branded 104-room boutique hotel, 47 604 square-foot nationally branded Publix supermarket and 13 242sqft of additional retail space for shops, restaurants and other businesses.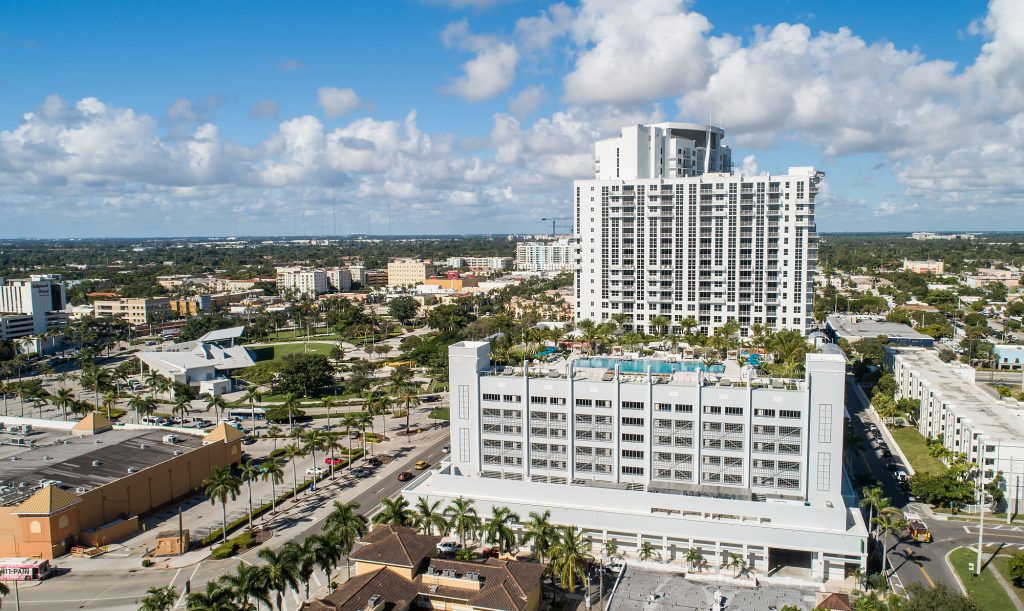 The developers have also just broken ground on a second development, Block 40, also situated on Young Circle and consisting of 166 residential units, 103-room Hilton Hotel Garden Inn, 5 820 square foot restaurant, 6 691 square feet of retail space, 3 102 square feet of office space and two pools – all just minutes from scenic South Florida beaches.
Adds Immelman: "Downtown Hollywood has experienced tremendous growth during the past several years due in part to its proximity to major metropolitan areas, but also because of its well-established neighbourhoods and business communities."
For further information contact Theresa Fernandez on international@pamgolding.co.za or 021 7622617.
Posted by Gaye de Villiers