Farm life in the heart of Somerset West – Croydon Olive and Croydon Vineyard
As if being able to call a working farm your home is not enough of a beau ideal, residents on two of Somerset West's most sought after estates are also able to enjoy the olive oil or wine they each produce.
With more people choosing to live and work in Somerset West and surrounds, there's been a proliferation of residential estates offering security, a semi-rural lifestyle and access to top amenities. "There is an estate to suit every buyer's need," says Gisela Spingies, Pam Golding Properties agent for Somerset West, "but two estates really stand out – not only because they are among the very few low-density estates already established in the area – but because they offer residents something extra when they become part of the community."
Residents of Croydon Olive Estate are given a share of olive oil each month, while the neighbouring Croydon Vineyard Estate provides each home with 73 bottles of award-winning wine a year. This estate has produced South Africa's Best Cabernet Sauvignon for two consecutive years.
Croydon Olive
The 10 000 olive trees on this secure estate far outnumber the homes, with only 200-odd residential properties set among the meticulously cared for formal gardens. In keeping with the history of the surrounding towns of Stellenbosch and Somerset West, the homes are a combination of Cape Vernacular and Cape Georgian design, with low garden walls and street-facing verandahs, lei-water furrows and tree-lined avenues.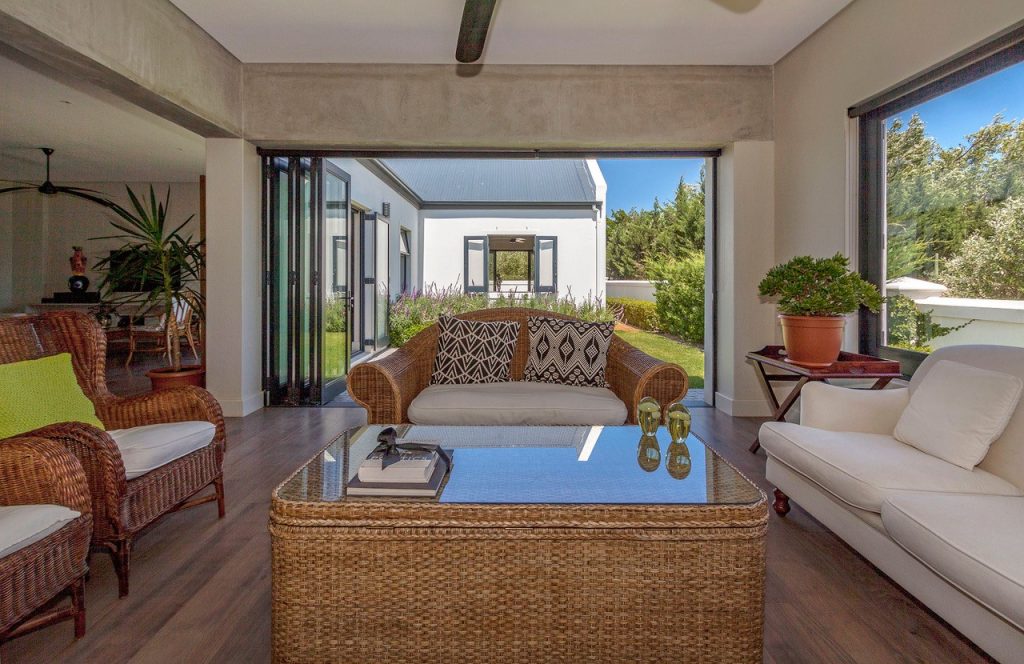 Families are able to embrace all aspects of living on a working farm, and are encouraged to take part in the harvest festivals and the picking of the olives, or they can enjoy an intimate dinner among the olive groves. There is also a clubhouse, pool, gym and function rooms for residents' use, and olive oil tastings and sales take place on the estate.
The appeal of this rustic, country lifestyle in an enviable location in the Cape Winelands, means that homes on Croydon Olive Estate are always in demand. Pam Golding Properties has continued to enjoy success in selling on this estate, and in the past year achieved sales ranging from R3.4 million to R4.85 million. Current listings range in price from R3.775 million for a contemporary four-bedroom home, to a spacious four-bedroom home with elegant finishes, for R4.95 million.
Croydon Vineyard
The neighbouring estates are nestled at the foot of the Helderberg Mountains, set on farmland dating back to the 17th century. This rich history is reflected in the Cape vernacular architecture of homes on both estates. As with Croydon Olive Estate, low white walls around the homes on Croydon Vineyard add to the village feel. Many of the private gardens attached to each home contain fynbos, but there are also formal flowerbeds and lawns to add to the colourful backdrop provided by the vineyards. A dam attracts plenty of birdlife and there is a children's play area next to the stream. There is also a walking or running track around the estate to encourage a healthy, outdoor lifestyle.
The clubhouse is really the heart of the estate – a place where families can gather around the pool, or over a glass of the one of the estate's wines. Croydon Vineyards produces excellent Chenin Blanc, Rose, Shiraz and a Cape Blend featuring South Africa's local grape, Pinotage. There is also a well-equipped gym and swimming pool for residents' use. Annual events such as the grape stomping festival and the potjiekos competition, add to the convivial atmosphere of this lifestyle estate, says Spingies. A familiar sight across both estates is children on bicycles riding between the vineyards, or playing a game of cricket under the streetlamps.
"Lightstone property data shows that most of the recent buyers on both estates were between the ages of 36 and 49, underlining their popularity with families looking for a secure, laidback way of life in a completely unique setting." – Gisela Spingies, Pam Golding Properties agent for the area
There's always someone to greet, be it dog walkers or neighbours on their way to the pool or enjoying a stroll. Pam Golding Properties recently sold a home in the Vineyard Estate for R6.25 million, and has homes overlooking the vineyards currently listed from R3.75 million to R5.395 million.
"You are not just buying a home, you are becoming part of a tight-knit community when you move the Croydon Estates." – Louise Varga, Pam Golding Properties area manager for the Helderberg
Both estates are well-located close to the Old Main Road, in an area that has seen considerable development in recent years. Commercial growth, which has included the opening of new shopping centres, medical facilities and a Curro school, has contributed to the expansion of Somerset West's residential footprint. The region is already well-known for its choice of good schools, top wine farms and natural beauty.
For more information, contact Gisela Spingies: 071 259 1967 or gisela.spingies@pamgolding.co.za
Posted by Anel Lewis