Retirement is a lifestyle choice at Quadrant Gardens
Well-located, with access to world-class amenities and onsite recreational facilities, Quadrant Gardens in Claremont offers unparalleled luxury living that feels more like a holiday environment than retirement accommodation.
With beautifully appointed apartments, a lush urban garden and elegant entertainment areas, Quadrant Gardens offers the best of this style of retirement, in a brand new development within the heart of the Southern Suburbs. "While there are the usual amenities one would expect to find should they be needed, such as state-of-the-art care centre Quadrant Gardens is primarily designed for independent living in an environment that promotes a definite sense of community," says Bev Bloch, Pam Golding Properties specialized Southern Suburbs Retirement Sales Executive.
From the 24-hour concierge service and the inviting coffee shop set within a stylish lounge, to the gallery of original artwork evident throughout, there is an atmosphere of comfort one would expect to find in an upmarket hotel. Quadrant Gardens is no ordinary retirement option.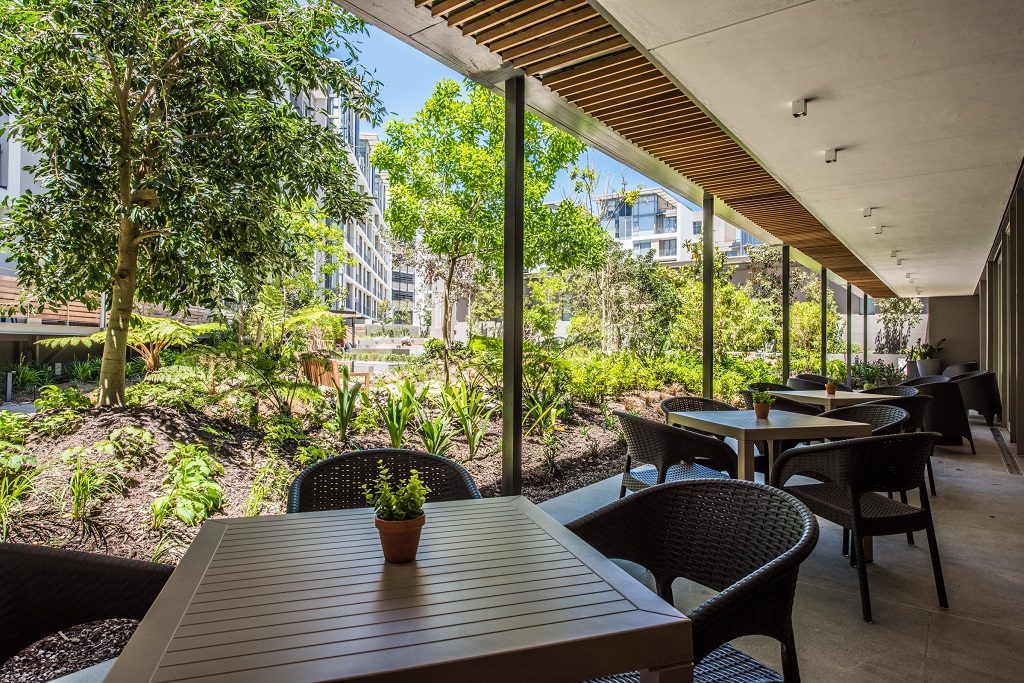 There is an inviting downstairs lounge, where residents can enjoy a selection of lunch meals from a varied menu that changes weekly. The beautifully-appointed library, well stocked with an array of books that provides a space to read and play games, or even enjoy cinema evenings, adds to the relaxed ambience. A vibrant coffee shop creates a welcoming space where residents and friends can socialise throughout the day.
These communal spaces look out onto the urban garden, an ideal outdoor area for all to enjoy. The rooftop is yet another communal space. It offers spectacular views and comprises a roof top garden with planting boxes for residents who want to tend their own herbs or vegetables, an entertainment area and a croquet lawn. Ground floor residents are able to own pets.
"It goes without saying that in terms of security Quadrant Gardens offers residents absolute peace of mind. Access is strictly controlled electronically and by personnel, while the topnotch security includes camera surveillance and is installed throughout the building," says Bloch. Additionally, residents also have monitored basement parking with direct lift access to their apartment floor.
Many of the units have uninterrupted mountain views and all are fitted to the highest standards for comfortable living, with buyers commenting on the quality of the finishes, says Bloch. Ninety percent of Block's B's mountain-facing units have already been sold since the development launched a few months ago. "A definite selling point has been the fact that there is no waiting period for those who want to move in immediately," adds Bloch, "subject to the CPOA's terms and conditions."
The luxury units have drawn considerable interest from retirees around the country, as well as Southern Suburbs residents who want to continue living in an area they love. Residents are able to frequent the shops they know, such as Cavendish Square, and nearby are the public library, Arderne Gardens and popular restaurants such as A Tavola Authentic Italian Restaurant. Furthermore, Quadrant Gardens is exceptionally well-located within an established medical precinct, offering residents excellent facilities such as the Kingsbury Hospital, as well as more than 40 medical specialists, within walking distance.
The development also offers a comfortable care centre, ably managed by Sister Carryn Boden who comes with a wealth of experience. Care services are provided by the Cape Peninsula Organisation for the Aged, which has more than 65 years' experience in the retirement market. Each apartment is fitted with an emergency call button should they need immediate care assistance, and there is an onsite 19-bed care centre with sick bays, for those who require 24-hour care.
"I can attest, after spending a few weeks at Quadrant Gardens to recover from an operation, that every effort is made to ensure residents feel completely at home, whether they are recuperating in the care centre or enjoying a meal at the downstairs dining room," says Bloch.
With a variety of two and three bedroom apartments – including north-facing units – with large outdoor entertainment areas still available, Quadrant Gardens is the ideal investment for families looking for value-added, lifestyle retirement options.
For more information, contact Bev Bloch: 083 252 2594 or Lee-Ann Trout: 072 135 2051
Posted by Anel Lewis