Stellenbosch is expanding, one brick at a time
Yet another landmark development in Stellenbosch underlines investment confidence
Thursday 5th of November 2020
Construction has commenced on an innovative new mixed-use residential property set to become a landmark development within Stellenbosch's emerging Bosmans Crossing precinct.
"Bosmans Club is just one of several developments in the historic town under construction or in the pipeline, making this the ideal time to invest in a new precinct that looks set to become Stellenbosch's creative hub in the near future," says Louise Varga, Pam Golding Properties manager of developments for the Boland and Overberg.
Stellenbosch has grown significantly, with more people moving into the area to study, work and for business. The municipality has therefore approved a development framework that will facilitate a variety of residential opportunities to meet the growing need for accommodation in this area. This includes the upgrade of the Adam Tas Corridor.
The Boland town is already recognised as an innovation hub, attracting investors and blue-chip corporate companies. It also has the most JSE-listed corporations of any other "secondary municipality" outside of a metropolitan area in the country, and is one of the fastest growing areas for high-net worth individuals with these numbers rising by over 20% over the past 10 years.
"The construction of Capitec Bank's new head office in Techno Park is just one of the numerous projects underway that underline investor confidence in the area. Many developments are being launched in Stellenbosch, as corporate companies and residents see the value of living and doing business in the Winelands," says Varga.
Located in a quiet part of Stellenbosch, there are plans to link Bosmans Crossing with other parts of town in future. This area is already emerging as an attractive creative hub, boasting gin breweries and restaurants, as well as trendy office space. VertiKal Investments and Developments have a proven track with projects that yield considerable investment returns. Bosmans Club, offering apartments starting at R1.4 million Vat inclusive, will appeal to investors as well as students and young professionals wanting a lifestyle in quality, comfortable apartment with great finishes and appliances in this trendy up-and-coming area. The development includes balconies, storerooms and bicycle garages and will include a coffee shop and laundry.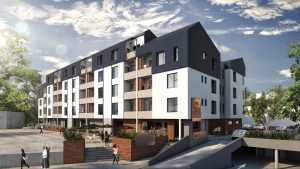 "With work on this exciting new development, which will include ground floor commercial and retail space, and residential accommodation above, well underway, the vast potential of this emerging area is becoming increasingly apparent," says Vanessa Johnson, Pam Golding Properties agent for the area.
Designed to fit in with the industrial architecture that distinguishes this area, the 46 apartments in Bosmans Club have varied fusions of wood, steel and glass combined with brick and concrete textures. The development includes energy-efficient features, optional private store rooms, secure basement parking and bicycle storage with a washing facility. There is also night security and a concierge.
"Bosmans Club apartments are set to become a stand-out, quality product, sought-after by both buyers and tenants. Surrounded by restaurants, coffee shops and wine cellars, it does not only give you the perfect opportunity to invest in an area bespoke to become 'the new town of Stellenbosch', it also offers you a sought-after convenient and inclusive lifestyle," adds Johnson.
"It's not surprising that investor interest in this particular project been consistently high and that demand has surpassed that of many of our other developments in Stellenbosch," says Varga. "This is certainly an exciting time in the growth of Stellenbosch, and an investment in Bosmans Club, in the heart of this new precinct, is an investment in its future."
For more information, contact Vanessa Johnson, Pam Golding Properties sales agent: 082 588 7007 or vanessa.johnson@pamgolding.co.za\
Posted by Anel Lewis