The Worx adds yet another jewel to Stellenbosch's crown
Pre-launch sales underline the demand for mixed-use, luxury developments in prime locations
Monday 25th of May 2020
The Worx, a new development in Stellenbosch, has garnered considerable buyer interest in recent weeks, with Pam Golding Properties concluding 14 sales to the value of R32.9 million.
Says Louise Varga, Pam Golding Properties manager of developments for the Boland and Overberg: "We were so confident of the appeal of this exciting new development from Abacus that we were happy to launch during the lockdown period. We expected it to do well, and we have not been disappointed. Following our pre-launch communication about The Worx, we have had almost 30 enquiries from potential investors and buyers," she says.
"This is testament to our agents' ability to maintain their personal and exemplary service in an evolving landscape with increased technology-driven activity. It also underlines investor confidence in this historic town where the perennial demand for student accommodation, coupled with the increasing expansion of commercial and economic activity in the area, are major factors in the residential property market."
While the lockdown has affected many businesses nationwide, Pam Golding has seen that buyers are taking the opportunity to look at what is available in the property market. Developments, traditionally considered a safe investment even during challenging times, attract considerable interest, says Varga, sometimes before these developments have officially launched.
"Pam Golding Properties has been fortunate in that we already have access to technological capability and knowledge, and our offering includes a broad range of digital products that allows us to showcase developments online. Using Matterport 3D camera technology, and other digital tools, we have been able to take investors on the same journey, albeit virtually, as we would have before the lockdown. This has been a differentiator for Pam Golding Properties, and has helped ensure that we remain at the forefront of this highly competitive market," explains Varga.
Once an investor has browsed through a digital brochure of a new development – that includes floor plans, renders and other pertinent details – there is still the peace of mind that comes with knowing that our specialised agents are available, via a WhatsApp call or other online meeting platforms, to talk through the images and to share market-relevant information.
Furthermore, Stellenbosch has an established reputation as a town that not only offers among the highest capital growth opportunities in the country, but one that has historically managed to maintain its property prices. "Sectional title property prices in Stellenbosch continue to show steady growth, with capital growth well above the national average," says Varga.
The Worx is the latest project by Abacus Development Company, a highly acclaimed developer with a proven track record in providing accommodation that offers an exceptional resident experience, says Vanessa Johnson, Pam Golding Properties sectional title agent in Stellenbosch.
Another of Abacus' successful projects is Andringa Walk, a residential development that is well-known in Stellenbosch for its prime location above the Eikestad Mall, as well as its luxury offering that consistently appeals to buyers and investors. Tapping into the demand for accommodation close to campus, and offering access to retail and leisure amenities, Andringa Walk was able to enjoy a substantial price inflation of 14% between 2017 and 2018, adds Johnson.
"The Worx, which offers 50 contemporary apartments priced from R1.45 million including Vat, is located in Dennesig, an area earmarked as the next de facto student hub in this university town," says Johnson. The municipality's urban design guidelines for this node include the promotion of pedestrian access and use of non-motorised transport, as well as the provision of a shuttle service to town. Also, the university's green route (which allows students to walk to campus with safety measures such as additional lighting and access to campus security), will be extended to the area.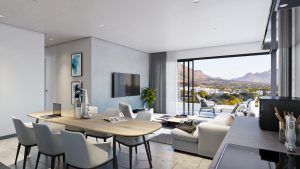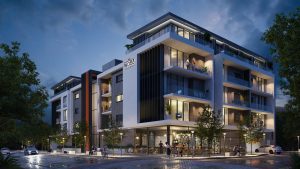 "Stellenbosch is expanding, and developments that offer convenience, security and smart building technology are always in demand. These mixed-use developments will continue to be an attractive investment opportunity, even in times of economic uncertainty," says Varga. "Furthermore, Pam Golding Properties is able to offer its full range of services to potential buyers who are interested in being part of Stellenbosch's vibrant community, even during lockdown, with our specialised agents operating digitally or virtually at present."
For details on The Worx contact: Vanessa Johnson at vanessa.johnson@pamgolding.co.za or
082 588 7007
Posted by Anel Lewis