Unprecedented buying activity in East London and Port Elizabeth housing markets
Since June this year, residential property sales have escalated in the Eastern Cape hubs of Port Elizabeth and East London, and encouragingly, with brisk activity across all price ranges, reports Pam Golding Properties.
Further positive indicators are that investor buyers are making a comeback in East London, while in Port Elizabeth there is unprecedented buyer activity. In both cities, there's also a steady flow of vacant plot sales, suggesting strong demand for new homes.
Illustrating the increased demand for residential property, while the Eastern Cape housing market underperformed relative to the national market during much of the past decade, it has enjoyed stronger growth in prices since late 2017, says Sandra Gordon, Pam Golding Properties senior research analyst. "Now, even as national house price inflation slows, growth in prices in the Eastern Cape continues to gather momentum.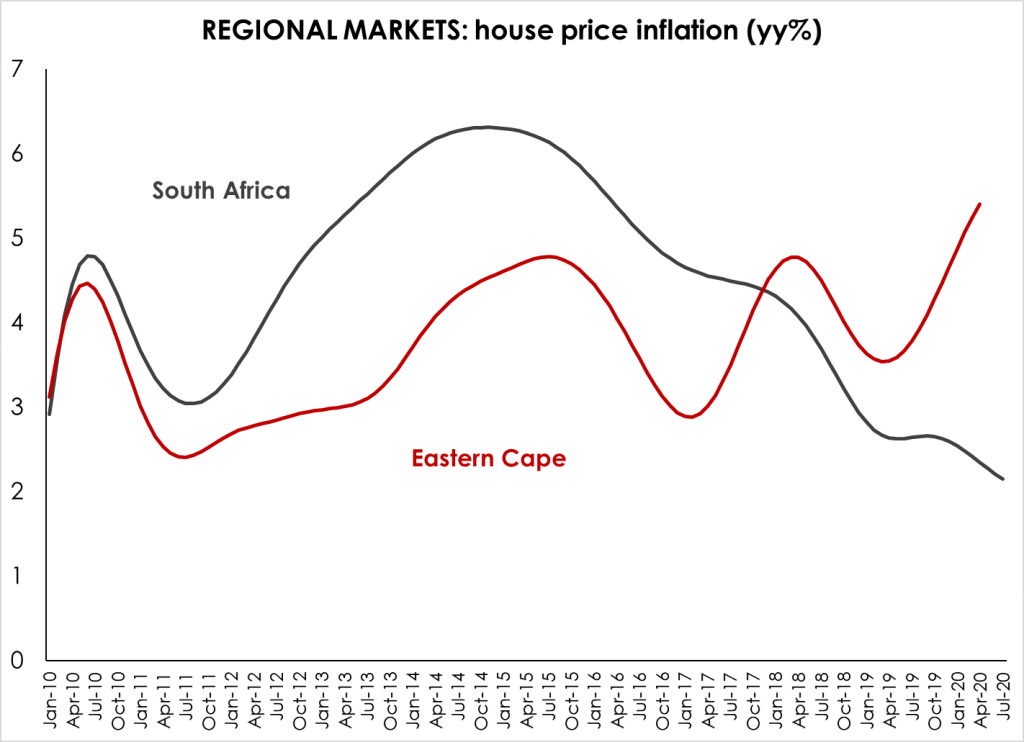 Source: Lightstone
| | | | |
| --- | --- | --- | --- |
| House price inflation | 2018 | 2019 | 2020 (Jan-Apr) |
| Eastern Cape | +4.41 | +3.90 | +5.15 |
| National | +3.70 | +2.66 | +2.45 |
| EC outperformance | +0.70 | +1.24 | +2.70 |
Source: Lightstone
Comments Sean Coetzee, Pam Golding Properties area principal in East London: "There's little doubt that Covid-19 has had a massive impact on the housing market. People have realised that, especially now that work-from-home is an accepted norm, their homes are where they are spending the majority of their time. While there has also been a pent-up demand from the first four months of lockdown, an additional factor fuelling the market is the low interest rates which are giving existing bond holders more buying power. We are also finding that some existing home owners are now selling their homes to upscale to larger properties or moving to more expensive areas which are closer to major schools, beaches and other amenities. Notably, investor buyers are making a comeback and are starting to invest in property as they perceive a better return on their investment in this asset class.
"We are encouraged by the demand for properties across all the price ranges. If a buyer sees quality in value in a home, they will buy. The lowering of interest rates has helped drive this sentiment as price is less of an issue. Currently, the most popular price range is up to the R2 million mark."
Adds Coetzee: "That said, we recently concluded several top end sales including a four-bedroom, three-bathroom home in the Nahoon Mouth area for R7.5 million. The home has multiple living rooms, gourmet kitchen, solid Knysna Blackwood bar area, beautiful river views and river access. Other recent upmarket sales were a home in Glen Gariff on the East Coast purchased for R5.3 million by a local family as a holiday home and a B&B in Beacon Bay which fetched R6.35 million."
Coetzee says in regard to residential projects, the Toboshane development in Dorchester Heights is enjoying high demand and excellent sales with plots of 1 000sqm achieving R1.1 million. The Olivewood Estate development near Chintsa East continues to enjoy popularity with buyers looking to live an eco-friendly lifestyle on a completely self-sufficient estate. "With prices starting from R675 000 for 800sqm, we have concluded the sale of six plots and three homes since the start of 2020.
"Khamanga Bay Private Residential Estate on the East Coast has seen a resurgence in interest from buyers of late, with our office finalising 16 sales over the past 18 months, at prices ranging from R500 000 for vacant plots to homes at R3.6 million. In Balugha River Estate, also on the East Coast, we have sold five sites priced from R400 000 and concluded two plot-and-plan sales for R2.6 million and R4.3 million respectively."
Coetzee says in East London, Pam Golding Properties is seeing more local Eastern Cape buyers from areas such as King William's Town and Mthatha, motivated by work transfers or seeking better schooling. At present there are a great deal of first-time buyers in the market, many of whom were renting but now making property acquisitions due to increased affordability because of the low interest rates.
"Many of our buyers are locals either upgrading or downsizing and, in a sense, trying to find their 'forever' homes. As many prospective purchasers were cooped up in their smaller homes during the lockdown, they came to the realisation that they needed more space so some want a home office or space to build one, bigger gardens for their children, or additional space in the form of separate flats for relatives, while the more mature age group nearing retirement is selling their homes to move to secure complexes."
In East London, secure, lock-up-and-go properties will always be in demand, which, together with low interest rates, is resulting in increasing sectional title sales. Here you can expect to pay between R1.1 million and R1.3 million for a good, two-bedroom, sectional title townhouse in a cluster development – which are always in demand for people starting out or older buyers looking to downsize and who see security as non-negotiable.
As to which areas are 'hot', Coetzee says the whole of East London is hot if the property is priced correctly. "However, our traditional 'hot' suburbs are the central areas close to schools and shops. A medium size home in the Vincent area is selling for between R2 million and R2.2 million. The suburb of Beacon Bay is always a vibrant market as the homes are newer and more affordable – priced in the region of R1.6 to R1.9 million, for three-bedroom, two-bathrooms home with double garage and pool – than similar sized homes in the central areas."
Offering advice for buyers, he suggests that those who can afford a free-standing, full title home, buy in the price range below R1.5 million. This price range always sells quickly, no matter what the interest rate is. Buy a smaller home in a good area which is surrounded by bigger homes, as this will allow you to expand the home as your family grows, but ensures you won't be over-capitalising, and finally, Coetzee says consider future affordability of your bond by trying to find a property that offers a second income in the form of a garden flat.
Justin Kreusch, an area principal for Pam Golding Properties in Port Elizabeth, concurs that the low interest rates have significantly increased the buying power of home purchasers, who are capitalising on the favourable environment for making sound property acquisitions. "The greatest demand is for family homes, mostly locals either trading up or scaling down, with a small percentage of professionals relocating from other major centres.
"We've seen unprecedented activity in areas such as Richmond Hill, Walmer, Summerstrand, Lorraine, Glendinningvale and Mount Croix, as well as across the Western Suburbs, while there is also good activity in the township markets. Noteworthy sales by our agents at the top end of the market include a 520sqm, four-bedroom home in Little Walmer Golf Estate bought by a local business person for just under R7 million.
"Of interest is the fact that many people thought that post-lockdown this would be a buyer's market, but this has not been the case as well-priced properties are not staying on the market for more than a few weeks. This poses somewhat of a conundrum for competing buyers – whether to wait and miss out on potentially good properties or bide their time until the market re-calibrates and further good buying opportunities become available in the constrained economic climate. So where should first-time and other buyers look to purchase? This too is challenging – as an example, a property that valued some eight weeks ago we thought would fetch in the region of around R2.1 million, however by the time the sellers were ready to go to market about a month later, it was priced at R2.4 million and achieved full asking price."
For further information contact Pam Golding Properties East London on 043 7054000 / eastlondon@pamgolding.co.za and Port Elizabeth on 041 3739955 / portelizabeth@pamgolding.co.za.
Posted by The Know - Pam Golding Properties