Benefits of an exclusive mandate
Trust
Intuitive and attuned to the skilled execution of the jump, the bond between the rider and horse is one built on mutual trust. It is this connection and collaborative partnership that leads to victory.
Benefits of listing exclusively with us
Pam Golding Properties was built on a foundation of immutable core values that include honesty, integrity, heartfelt sincerity as well as a passion for both people and property.
By awarding us with your exclusive mandate you entrust us to sell your property; for the maximum price in the shortest possible time, through the application of our proprietary Intelligent Pricing strategy, whilst offering you peace of mind with a single point of contact, access to exclusive marketing opportunities and leveraging the network and referral opportunities of an award winning brand.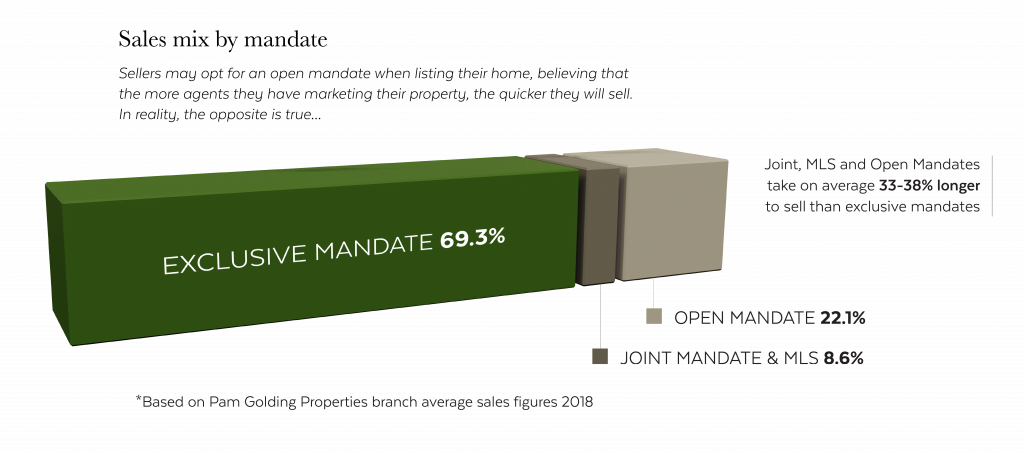 The maximum price in the shortest time
Your property will be correctly priced to sell applying our Intelligent Pricing strategy. The more accurately your property is priced in terms of its market value when first listed, the quicker it is likely to sell (typically
2-3 weeks faster) and the higher the achieved selling price will be. An exclusive mandate creates a platform of competition between buyers competing for the purchase of your property, placing you in an ideal negotiating position.
Single point of contact
An exclusive mandate affords control over the buyer pool, and enables us to provide regular, consolidated feedback on all your property activity, whilst giving you peace of mind regarding your property's security and access. We understand the responsibility of trust that comes with the privilege of your exclusive mandate instruction. Should you decide to list your property exclusively with us, you can be assured of our commitment and dedication as we undertake to use our knowledge and expertise to find the buyer for you.
Refer to our agent commitment letter.

Exclusive marketing opportunities
With an exclusive mandate you have access to our world-renowned marketing capabilities and opportunities to showcase your property through proven and appropriate traditional and digital omni-channel platforms.
Refer to our Marketing brochure for our full marketing capabilities.

Global network & referral opportunities
With an exclusive mandate you have the backing of an award-winning real estate brand, offering referral opportunities throughout our network of 300 offices across South Africa, Africa and internationally.
Furthermore, our strategic association with Savills connects you to more than 600 offices worldwide.
Refer to our Exclusive brochure for further information.
Posted by The Know - Pam Golding Properties
you might also like
Thursday 21st of July 2022
Tuesday 19th of July 2022