The sun rising in the east is something we all rely on, but right now it's not the only good news coming out of the east. Increased investment in the area – a sure sign of confidence in its potential – along with lively performance by its coastal regions, has resulted in buoyant market sentiment and surging demand.
Youth appeal and investment
Senior research analyst at Pam Golding Properties, Sandra Gordon, says that both Port Elizabeth and East London are increasingly popular with young people, and that most new homeowners fall into the 36-49 years bracket or are young adults under 35.
"The relative affordability of homes in these metros, combined with the coastal lifestyle offering, may well explain the appeal of these housing markets for young families and first-time buyers," says Gordon.
"In 2017, while median prices for freehold properties in East London marginally exceeded prices in Port Elizabeth, activity in Port Elizabeth's larger housing market has recovered more quickly in the wake of the 2008 recession.
"Development around Coega remains a positive factor impacting the demand for homes to buy and rent, while the Beijing Automotive Group Co. from China recently made a R11 billion investment in a vehicle manufacturing plant in Port Elizabeth, which is expected to become operational this year (2018)."
Port Elizabeth isn't the only city benefiting from an upswing in investor confidence in the Eastern Cape. Mercedes-Benz has announced plans to produce the next-generation C-Class at its East London plant, and will invest a massive R10 billion to make this happen.
Port Elizabeth
"We're experiencing ongoing demand for homes, with the more traditionally popular areas being Walmer, Lorraine, Mill Park and Summerstrand," says Ian Olivier, area principal for Pam Golding Properties in Port Elizabeth. "Land is becoming scarcer, but we are seeing developments being launched in areas such as Baywest, Lorraine and Sherwood.
"Lorraine is always sought after for its good value for money, as is Richmond Hill which is upgrading and vibey as well as close to the central hub and transport routes. Here you can acquire a nice home for under R1 million, although for the first time we are seeing asking prices of up to R1.5 million."
East London
When a motor manufacturer throws R10 billion at a production plant, rest assured that some of that bill is going towards paying salaries. Many of the staff employed by the luxury car giant, will be coming into East London from Germany on a contract basis, creating significant demand for rental properties.
According to Sean Coetzee, Pam Golding Properties area principal in East London, homes within secure estates remain sought after and in short supply. "The recent launch of sectional title apartments and simplexes, as well as full title vacant stands in Olivewood Private Estate & Golf Club, has aroused considerable interest in the marketplace, with 30 erven priced from R500 000 sold in phase one."
St Francis Bay
Twenty two percent of sellers in this popular coastal town are locals trading up or down, or simply relocating in St Francis Bay, we're told by Pam Golding Properties area principal, Richard Arderne. He adds that, "many of them are buying additional properties to develop or for speculation.
"From an investment perspective, property in St Francis Bay is performing exceptionally well, with the average price of homes on the canals having doubled from 2012 to 2017.
"At present the builders are busy, with 19 houses being constructed (or undergoing major refurbishments) on the canals and almost as many being built on The Links – where sales of homes and plots are buoyant."
Port Alfred
Another coastal town proving to be a favourite amongst those seeking a change in lifestyle, lower cost of living and a peaceful retirement, is Port Alfred.
The Know spoke to Isobel Meyer, area principal for Pam Golding Properties, who told us that the upgraded R72 linking Port Alfred to East London has resulted in a demand spike for rental properties – the town is an ideal residential option for contractors working in East London.
Jeffrey's Bay
Jaco Bothma, Pam Golding Properties area principal for Jeffrey's Bay, is upbeat about the area. He reports high levels of activity and a shortage of stock in the R900 000 to R1.3 million market there.
"We are finding people moving in from the bigger metros, including Gauteng and KwaZulu-Natal, for the lifestyle appeal, including those with the advantage of being able to work from home. About 60% of our buyers are permanent residents with the balance leisure buyers."
With investment taking off and the coastal regions attracting all the right kind of attention, it seems the Eastern Cape definitely is reaching for new heights.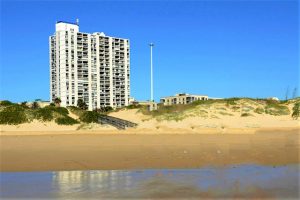 The Beaches, PE: Pam Golding Properties Port Elizabeth agent Octavia Boshoff has sold 13 units in this ideally located apartment block called The Beaches, situated at Kings Beach in Port Elizabeth, with craft markets, a water slide, skateboard park, outdoor gym and plenty of restaurants just a stone's throw away. Currently there are four apartments for sale in the building affordably priced between R600 000 and R1.9 million.
If you are considering selling, buying or letting your home, we recommend contacting Pam Golding Properties to find out more about your area and to obtain professional advice or a valuation.
Information courtesy of Gaye de Villiers PR
Posted by Niki Jackson