Housing bubbles identified in six major cities
A recent survey of 18 major global financial centres reveals that house prices in the majority of these cities are currently overvalued.
According to the report – the UBS Global Real Estate Bubble Index – Vancouver's housing market is the most at risk. Five other cities – London, Stockholm, Sydney, Munich and Hong Kong – were also classified as being in the housing bubble zone.
House prices in these six cities have surged by almost 50% on average since 2011. This compares to the other 12 major financial centres, where prices have risen by less than 15% during the same period. The gap in price performance between these two groups is out of proportion to differences in economic growth and inflation rates.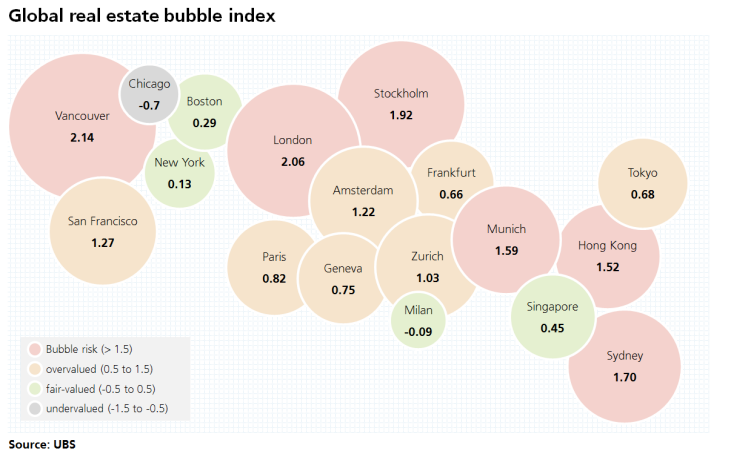 "House prices in Vancouver have surged by more than 25% since the beginning of 2015…"
What all these bubble zone cities have in common are excessively low interest rates which, combined with limited housing supply and sustained foreign demand, have created the ideal conditions for excessive growth in house prices.
House prices in Vancouver have surged by more than 25% since the beginning of 2015 as a result of loose credit conditions and a weak Canadian dollar, which appear to have further stimulated investor demand from Asia. As a result, house prices are increasingly out of step with the region's economic fundamentals.
Vancouver may have the world's most overheated housing market but it is also leading the way in its attempts to tackle the housing bubble. Authorities recently imposed a 15% property transfer tax on foreign buyers. The tax is proving effective, with local realtors confirming a sharp decline in foreign purchases.
The report concludes that all European cities are currently overvalued as the search for yield in the current low interest rate environment pushes capital into both residential and commercial real estate assets.
London was identified as the most overvalued housing market in Europe and the second most vulnerable housing market among its global peers. The capital's housing market has become even more attractive to foreign buyers since the pound weakened in the wake of the Brexit vote in June.
While no US cities were included in the bubble risk list, some markets – such as San Francisco – appear to be heading towards the bubble zone.
The report warns that the situation is fragile for most of these overvalued housing markets. A sharp increase in supply, higher interest rates or a shift in the international flow of capital could trigger a major price correction at any time.
Posted by The Know - Pam Golding Properties