Ongoing resilience of SA's residential property market
A report on the past year and outlook, trends for 2022
Monday 13th of December 2021
By Dr Andrew Golding, Chief Executive of the Pam Golding Property group
Despite the uncertainties surrounding Covid-19 and the ensuing lockdowns, the residential property market has proven to be one of South Africa's more resilient sectors, despite the challenging trading environment.
While the unexpected strength in the housing market last year was catalysed by first-time buyers responding to the aggressive interest rate cuts, in 2021 the national housing market was driven by a second wave of demand – fuelled by non- first timer buyers (repeat buyers) buyers as first-time buyers felt the impact of the weak economy and the benefits of the rate cuts began to fade.
These repeat buyers were motivated by the interest rate cuts, but also by the ability to relocate due to the option to work from home and the desire for a larger home and/or more relaxed lifestyle in a more affordable home in the peripheral suburbs of the metro areas and smaller towns traditionally considered retirement or holiday destinations – resulting in a so-called Zoom Boom. This convergence of factors resulted in an unexpected surge in residential market transactions, despite the severe economic disruptions caused by the pandemic.
This desire to relocate was partly in response to lockdown, which made a larger house a necessity due to work-from-home (WFH) and home schooling, and outdoor space in particular more appealing. The ability to WFH made it feasible to consider suburbs and towns that had previously been too far from schools and the workplace, but which typically allowed homeowners to buy larger, more affordable freehold homes, which in turn saw a temporary pause in the long-term structural shift in the national housing market towards sectional title homes.
Positively, the residential property market remained robust during the first half of 2021 – both in terms of price growth and activity levels. The total number of sales recorded during the first half of the year – approximately 128 000 units – is the highest sales number recorded during the first six months of the year over the past five years. This shows surprising resilience in the national housing market, despite the economy struggling to recovery from the worst recession in a century.
SOURCE: Lightstone
| | | | |
| --- | --- | --- | --- |
| SOUTH AFRICA | H1 2019 | H1 2021 | % change |
| Units ('000) | 114 | 128 | +12.3 |
| Value (R bn) | 113 | 153 | +35.4 |
SOURCE: Lightstone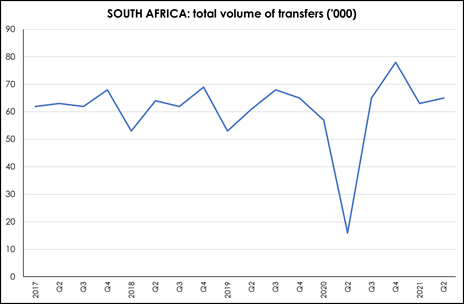 SOURCE: Lightstone
Much of this demand has been driven by local buyers who have identified specific areas of interest and understand that the current market, characterised generally by motivated sellers and well-priced stock, presents opportunities which offer exceptional value for money.
From a Pam Golding Properties perspective, for the group's financial year to date (March to October 2021), sales turnover is 55% ahead of the same period during the previous financial year and on a par in terms of units sold. Meanwhile, for the calendar year to date (January to October 2021), sales have increased in terms of turnover and volumes (units sold) across all price bands, including the luxury homes market from R10 million upwards which has experienced a resurgence, where the company has concluded sales transactions for a range of high-end residential property achieving prices significantly in excess of R50 million, including two in Clifton on the Cape's Atlantic Seaboard.
Other top end sales include a penthouse sold for R33 million within the first week of the launch of the flagship City Centre development in Steyn City, with 40 units reserved in the first month to a value of over R240 million; as well as homes sold in Sandhurst, Johannesburg and Constantia in Cape Town for R35 million and two sales concluded in Sandhurst for R30 million, plus homes in Somerset West for R32 million and R25 million and four student houses sold between R17 million and R42 million in Stellenbosch. In KwaZulu-Natal we achieved our highest recorded sales value for Simbithi Estate of R22 million to a Johannesburg buyer, which highlights that this region is a preferred lifestyle destination, especially for security estates, established gated communities and off-plan developments.
Sales to international buyers have surprisingly remained steady over the past two years and during the past 12-18 months we've also seen a resurgence in demand, with sales concluded to a wide range of purchasers from the UK, Zimbabwe, Germany, USA, Botswana, Netherlands, Nigeria, Switzerland, France, British Virgin Islands among others globally – including from the rest of the African continent.
In regard to house price inflation, after averaging 5.1% from Jan-Oct 2021, it appears likely that this will average closer to 3% in 2022. While the Reserve Bank has adopted a contained and very conservative approach to the raising of interest rates with a recent 25bps increase as a pre-emptive move rather than play catch-up later, we do not believe that the fundamental reasons for purchasing property will change, including first-time buyers wanting to gain a foothold on the property ownership ladder.
Unsurprisingly, both house price inflation and activity levels are slowing as 2021 draws to an end, as the economy has lost some momentum with the return of loadshedding and the distraction of the local elections is coupled with the fuel and utility price hikes and a weaker rand, with household incomes under pressure.
Although the emergence in recent weeks of a new Covid variant – Omicron – is likely to further dampen economic activity, early indications suggest that it may not cause significant hospitalisations and deaths which could minimise the severity of the coming lockdowns, reducing the likely disruptions to an already subdued economic outlook.
One of the key factors in the surprising strength in the housing market over the past two years has been the aggressive interest rate cuts. But it is also important to note that the recent 25bps rate hike will not represent a noticeable tightening in monetary policy – and further tightening is likely to be slow – so this may not boost demand but equally is unlikely to dampen demand significantly either.
Regional Performance:
Regionally, KwaZulu-Natal initially led the recovery in house price inflation, being the first major regional housing market to rebound in mid-2019, followed by Gauteng. KZN was then the first to peak – again followed by Gauteng, while the Western Cape was the last to begin recovering and is still showing accelerating growth.
| | | | |
| --- | --- | --- | --- |
|   | 2020 | 2021 ytd | Oct'21 |
| Gauteng | 2.84 | 4.52 | 4.21 |
| Western Cape | 4.26 | 6.06 | 6.59 |
| KwaZulu-Natal | 4.01 | 4.95 | 4.15 |
| National | 3.71 | 5.07 | 4.72 |
SOURCE: Pam Golding Residential Property Index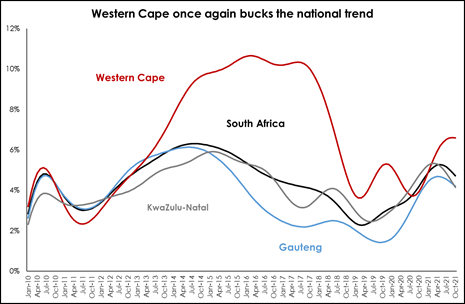 SOURCE: Pam Golding Residential Property Index
Over the past almost 11 years, the percentage of national sales registered in Gauteng has inched upwards from 40% in 2010 to 41% in 2021 YTD, essentially remaining stable, while the Western Cape has seen an increase from 22.4% of all national sales in 2010 to 25.8% of all sales in 2021 YTD. The impact of semigration is visible between 2014 and 2017, when a rising share of total units sold were located in the Western Cape. A second wave of semigration, triggered by the global pandemic and the resultant Zoom Boom, is visible from mid-2020 until mid-2021 (latest available data).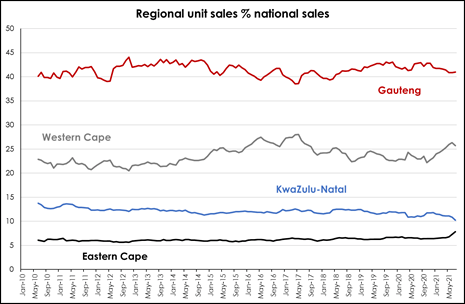 SOURCE: Lightstone
The above four provinces account for a growing percentage of total SA unit sales – rising from 81.9% in 2010 to 84.8% in 2021 YTD. This reflects the rapid urbanisation in South Africa, which is seeing young people relocate to the economic hubs of the country which are located in these provinces.
| | | |
| --- | --- | --- |
| Region | % SA sales 2010 | % SA sales 2021 ytd |
| Gauteng | 40.0 | 41.0 |
| Western Cape | 22.4 | 25.8 |
| KwaZulu-Natal | 13.3 | 10.3 |
| Eastern Cape | 6.2 | 7.6 |
| Four largest provinces | 81.9 | 84.8 |
SOURCE: Lightstone
Metro Update: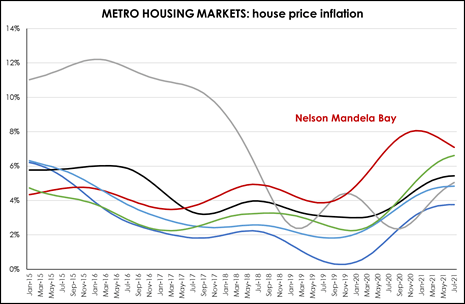 SOURCE: Lightstone
The top performing metro market is Nelson Mandela Bay (NMB), where house price inflation has been outperforming all metro markets except Cape Town since mid-2019 – perhaps due to ongoing semigration to the coast – and subsequently outperformed relative to Cape Town since January 2020.
However, from a major metro perspective, while Johannesburg and Tshwane initially led the recovery in prices, these appear to be approaching a peak (as does eThekwini) while Cape Town – the last to recover (reaching a lower turning point about a year after the others) is now the only major metro market to be enjoying continued accelerated growth in house prices. These trends continued into July 2021 (latest data below).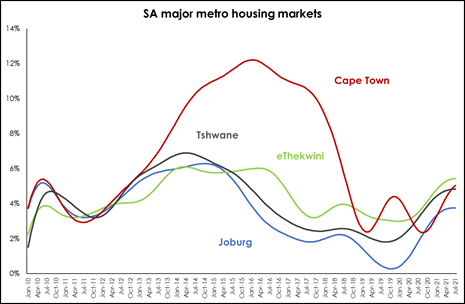 SOURCE: Lightstone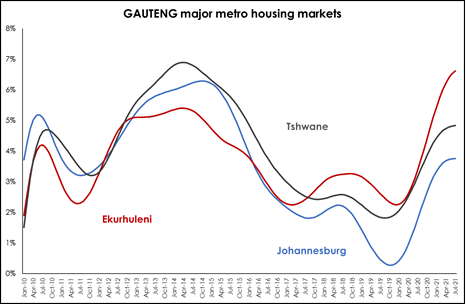 SOURCE: Lightstone
Within Gauteng, Ekuruhleni is showing the strongest performance, with price inflation accelerating to 6.6% in July, while price growth in both Johannesburg and Tshwane appears to be peaking. Price growth in Ekuruhleni has been faster than in the other two sub-regions since mid-2020, perhaps benefitting from an influx of new buyers because the metro housing market offers more affordable homes and/or more space amidst a desire for freehold homes or larger apartments for work from home.
| | | |
| --- | --- | --- |
| Metro HPI | 2020 (ave %) | 2021 (ytd %) |
| Nelson Mandela Bay | + 6.7 | + 7.6 |
| Ekuruhleni | + 3.4 | + 6.1 |
| eThekwini | + 3.6 | + 5.2 |
| Tshwane | + 3.1 | + 4.7 |
| Cape Town | + 3.0 | + 4.3 |
| Joburg | + 1.7 | + 3.6 |
SOURCE: Lightstone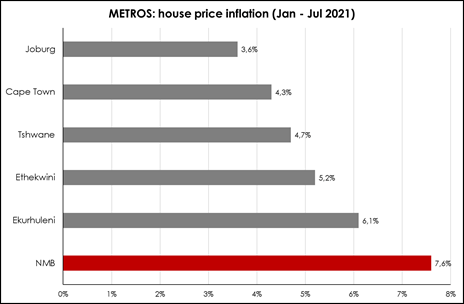 SOURCE: Lightstone
In terms of units sold, while Cape Town was hardest hit in 2020, it has unsurprisingly recorded the strongest recovery in unit sales to date in 2021 compared to 2020 in total, while Port Elizabeth has registered the second largest rebound this year, despite registering one of the smaller declines in sales last year. Only Johannesburg and Durban sales have not yet matched or exceeded the activity levels recorded in 2020.
Among the major metro markets, Tshwane has registered by far the largest number of sales thus far this year. Of the 44 857 sales registered to date in these six metro markets, more than a third (38.1%) was recorded in Tshwane. Cape Town followed with the second largest number (25.5%) while Johannesburg has registered 22.8%. In Pretoria, well-priced homes that offer value continue to sell within six weeks, while it is encouraging to see that the buy-to-let market is picking up.
Market Sectors:
Coastal: Since early 2015, homes within 5km of the coastline have enjoyed stronger price growth than non-coastal homes (further than 5km from the coastline), except for a brief period between September 2019 and July 2020. Since then, the so-called coastal premium has widened steadily and currently stands at +1.6% In July 2021 (latest available data).
The coastal price premium may be attributable to the general shift towards coastal areas as part of the semigration trend and the Zoom Boom, and the limited availability of homes in coastal areas for geographic reasons – as there is only so much space within 500m of the shoreline – making it more likely that prices will rise relative to areas where there is more space for new homes.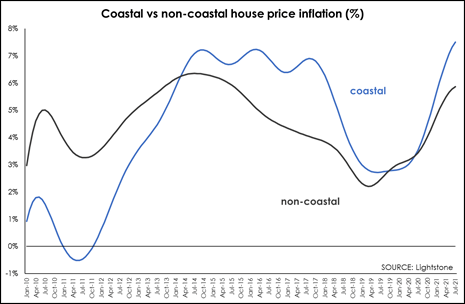 SOURCE: Lightstone
Freehold vs sectional title:
Freehold house prices have typically enjoyed stronger growth than sectional title homes by a fairly consistent margin in recent years. However, during lockdown, growth in freehold home prices accelerated strongly relative to sectional title homes – possible reflecting the impact of the pandemic and lockdown, which prompted homebuyers to seek more space, outdoor space and, in many cases, relocate to peripheral or outlying suburbs and holiday/retirement towns where homes were more affordable – allowing them to exchange a small, sectional title home close to town for a larger, freehold home further away. However, as life returns to some semblance of normality and as people begin to return to the office, growth in freehold prices has peaked and begun to slow while sectional title price inflation has remained fairly steady.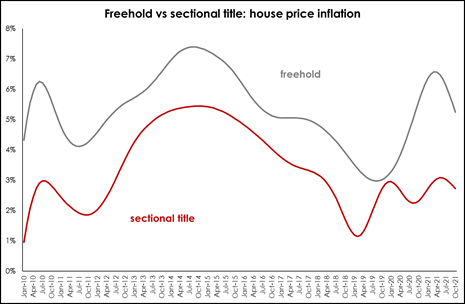 SOURCE: Lightstone
When looking at freehold and sectional title homes by size, all categories are now showing a slowdown in house price inflation. However, during the course of last year and during the year to date (data available until October 2021), smaller freehold homes have experienced the strongest growth in prices, followed by three-bedroom freehold. In contrast, larger (three-bedroom) sectional title homes have registered stronger price growth than smaller sectional title homes.
This would seem to suggest that buyers who would typically have lived in a sectional title home have taken advantage of the lower interest rates and the ability to work from home to buy a more affordable freehold home away from major urban centres, resulting in increased demand for smaller freehold homes. For those still purchasing a sectional title home, which no doubt includes a large number of first-time / young home owners who have found themselves able to afford to purchase rather than rent, these have opted for slightly larger sectional title homes because they are now working from home and/or spending more time at home due to the pandemic and need more space.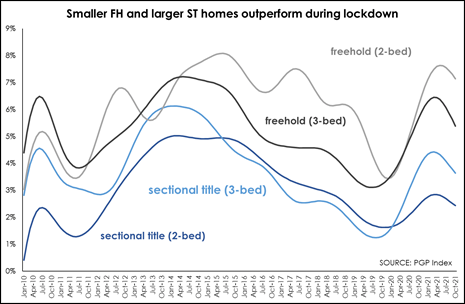 SOURCE: PGP Index
However, we anticipate that many of the trends triggered by the pandemic will gradually begin to fade and/or reverse over the course of 2022 and beyond. For example, we experienced a temporary halt in the long-term structural shift in housing stock from predominantly freehold to predominantly sectional title – reflecting the ongoing urbanisation of SA's predominantly young population.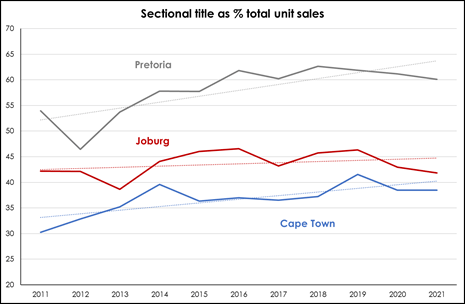 SOURCE: Lightstone
In 2011, just 30.3% of all homes sold in Cape Town were sectional title. By 2021, this had risen to 38.5%. In Johannesburg, the shift was from 42.2% in 2011 to 41.8% in 2021, reflecting essentially no change, although the underlying trend line shows a slow steady rise. In 2011, more than half of all home sold in Pretoria were sectional title – a percentage that has risen from 53.9% in 2011 to 60.1% thus far this year.
| | | |
| --- | --- | --- |
| ST % total sales | 2011 | 2021 YTD |
| Johannesburg | 42.2 | 41.8 |
| Cape Town | 30.3 | 38.5 |
| Durban | 49.3 | 57.9 |
| Pretoria | 53.9 | 60.1 |
| Gqeberha | 38.3 | 50.5 |
SOURCE: Lightstone
Notably, 2021 is the first year in which sectional title sales have accounted for more than half of total sales in Gqeberha. In Durban, the last time sectional title sales were less than 50% of all sales in a single year was 2011.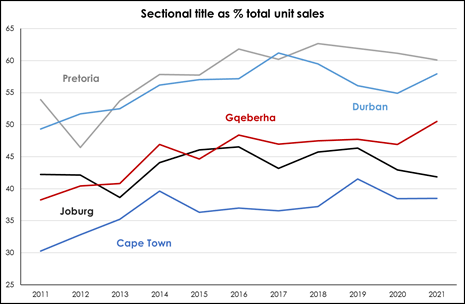 SOURCE: Lightstone
Among the major metro housing markets, Pretoria has the highest percentage of sectional title sales. In all five metro markets the underlying trend is upward, as one would expect given the young population, rapid urbanisation and the shift in lifestyles towards lock-up-and go and mixed-use precincts.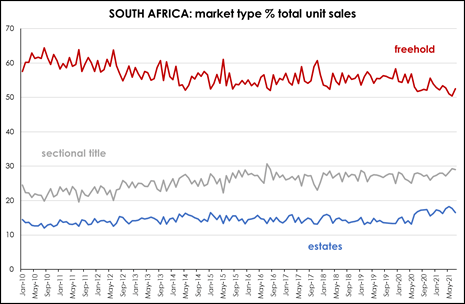 SOURCE: Lightstone
Climate for Lending:
According to mortgage originator, ooba, lending conditions have remained advantageous to home loan applicants throughout 2021. Competition among the major banks for market share in the home loan market has resulted in higher approval rates, as well as offers of interest rates below prime – at a time where interest rates remain close to 50-year lows.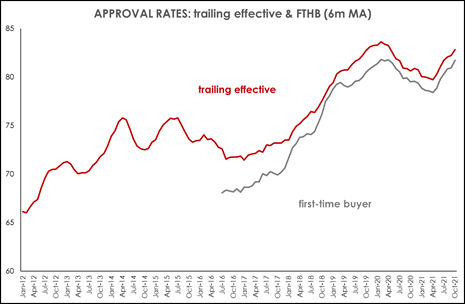 SOURCE: ooba
Approval rates declined during the initial stages of the pandemic, reaching a lower turning point in April 2021, but have since started rising once more. At 82.8% in Oct'21 (81.7% for first time buyers) approval rates are rapidly approaching pre-Covid highs.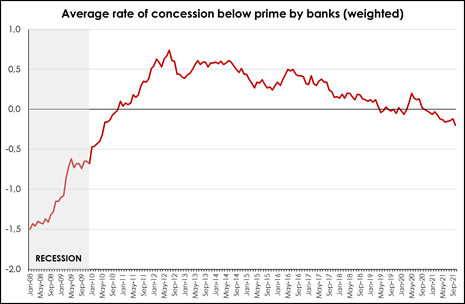 SOURCE: ooba
The average concession relative to prime has now been in negative territory for a full year and, after declining to -0.2% in October 2021, is currently at a level last seen more than a decade ago. A gradual rising trend (from -0.16% in June to -0.12% in September) did seem to suggest that lending conditions were tightening as banks grew more cautious – but this was reversed in October with a move back to -0.2%. According to ooba, home buying and mortgage lending have thus far remained relatively immune to the pandemic and in fact have been boosted by the pandemic as a result of changed lifestyles and banking trends.
According to ooba, local financial institutions remain optimistic about the outlook for SAs residential property market, with the current lending environment remaining fiercely competitive – as evidenced by the softening of deposit requirements as well as lending rates.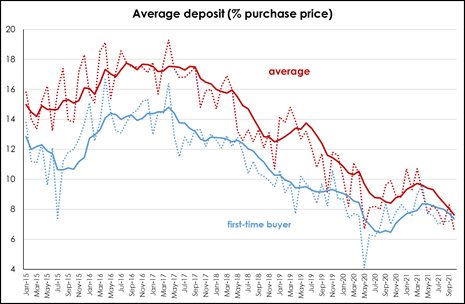 SOURCE: ooba
Deposits as a percentage of purchase price reached a low in late-2020, rose again for several months before declining once again since the start of Q2 2021. While the average deposit (as a percentage of purchase price) fell to an all-time low of 6.6% in October 2021, for FTHB (7.5%) it remains above the levels reach in mid-2020 when the initial surge of buying by first-time buyers emerged (4.1% in May 2020).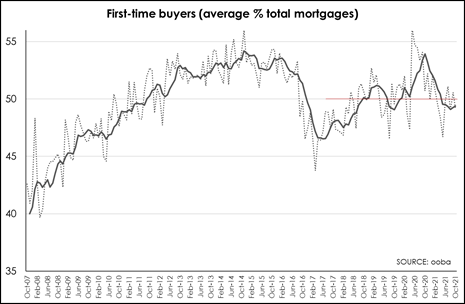 The fact that the first post-hard lockdown wave in demand was driven by first-time buyers is evident in the chart above – with the percentage of applications from FTHB received by ooba rising from 50% in Apr'20 (6m MA) to a high of 53.9% in Oct'20 before subsiding once more to average just over 50% in Q3 2021. The percentage appears to be stabilising at around the 50% level (49.1% in Oct'21) after a year of decline. The second wave of housing demand was driven by older, more affluent, repeat buyers.
Ooba notes that zero-deposit bonds remain in high demand among FTHB and the banks' ongoing willingness to extend 100% bonds provides a favourable environment for FTHB.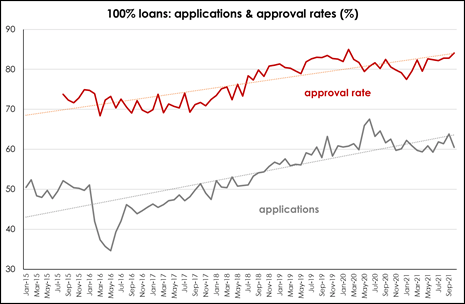 SOURCE: ooba
Improved affordability of home loans has resulted in a shift towards homebuyers purchasing their properties alone, rather than with someone else, a trend which has risen to almost 60% of applications since the start of the pandemic (no pre-pandemic figures are available). Female homebuyers are dominant in the single-owner segment, accounting for just over 51% of applications received by ooba, reflecting an increase of 4% since April 2020.
Growth in mortgage extension remains surprisingly robust this year, given the weak state of the economy. However, F NB believes this is attributable to a shift in demand towards more expensive properties as the profile of the buyer shifts to fewer but larger mortgages as more affluent buyers replaced first-time home buyers as the primary source of demand.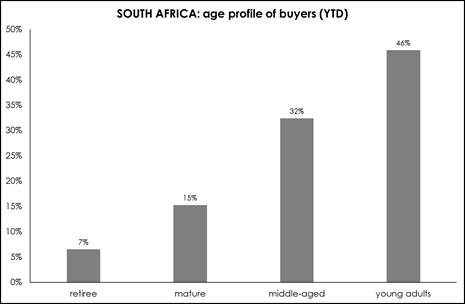 SOURCE: Lightstone
Trends & factors impacting the housing market into 2022
Interest rates : These are likely to be moving higher but the slow pace suggests this will remain a benign environment for the housing market with interest rates expected to rise gradually in small 25bps increments. However, the sluggish economy is likely to prove to be a headwind. That said, the emergence of the new variant and the arrival of a fourth wave of Covid infections may well delay the likely timing of further interest rate hikes.
Affordability : We have already seen the surge in FTHB demand fade as the effects of the aggressive interest rate cuts early last year abate. Although interest rates are unlikely to prove a significant impediment, consumers are dealing with the economic fallout of the pandemic, loadshedding and subdued growth prospects. That said, SA's young population does mean that there will always be a steady demand from young buyers – to the extent that they can afford to purchase a home.
Co-living & merging of residential & commercial : The co-living trend continues to gather momentum despite initial fears that the pandemic would bring this to an end. People have realised that infection is more about shared air space than contaminated surfaces, and outdoor space is likely to retain its appeal as we all spend more time at home – less time than last year but more time than before Covid. A key theme of the pandemic is that businesses need to be as flexible as possible, so co-working remains popular, as does co-living – in micro units with shared living spaces which offer community and reduced costs and maintenance. The concept has progressed even further with developments like BlackBrick where the monthly rental includes accommodation in BlackBrick developments in both Cape Town CBD and Sandton. These and the Neighbourgood developments focus on the creation of community with the accommodation offering as flexible as possible.
Conversion of office space: We have seen the conversion of office space into residential and/or the mixed-use model for some time but now as businesses become more flexible to survive in the pandemic economy, there is a focus of trying to tap into as many markets as possible, namely office, retail, residential, gym etc. Examples include two businesses using the same venue at different times of the day, and office space offering a food hall instead of a reception area in order to increase the appeal of the work space. Pure office space is likely to be under the most pressure of all sectors, so it is anticipated that much of this will have to change – often including a residential component. One Thilbault, for example, in Cape Town's central city, is redeveloping into 50:50 office and residential. In Johannesburg, particularly in the Bryanston area, we are seeing increased interest in converting office parks to sectional title apartments.
Business hubs : It is becoming apparent, particularly given the acceleration in fuel price hikes, that even if people only come to the office occasionally the office needs to be in a prime and accessible location, making location even more important than before. This implies a focus on central cultural districts in recognition of the fact that people are not there purely for the business but rather acknowledging the fact that in order to collaborate they may need physical connection.
For many young people, living in the CBD is not only about access to work it is also about the 'buzz' factor. Given SA's young population, many are likely to prefer life in a city hub to the quiet life in the country. Well located apartments in a business hub continue to offer an appealing lifestyle to many young buyers, with the buzz of city living with bars, clubs, coffee shops, restaurants and other entertainment and numerous work opportunities, or at least co-working spaces and proximity for start-ups and SMMEs.
One example is the Cape Town Central City which has seen sales surge in 2021 – suggesting that, contrary to initial theories, inner city living retains its appeal despite the ongoing pandemic.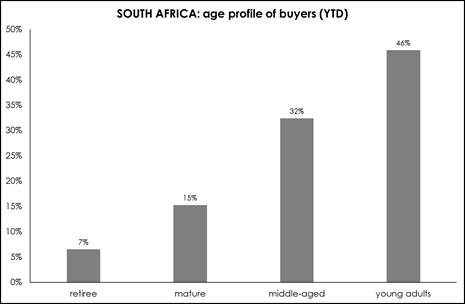 SOURCE: Lightstone
Fading Zoom Boom but semigration prevails : One of the key trends to emerge during the pandemic was the rise of the Zoom Boom – the realisation that working remotely meant that you were able to live anywhere. This prompted many homeowners to relocate to peripheral suburbs areas or to smaller towns historically considered holiday or retirement destinations. Now, however, people are gradually returning to the office amidst a realisation that there are certain types of work which require physical interaction with ones' colleagues. While there is currently general agreement that we are unlikely to return to the five-day at the office workweek which prevailed prior to the pandemic, adopting some type of hybrid model instead, the realisation that one may well be required to be present in the office three days a week (at least) has made people reassess the reality of living a few hours' drive away from their place of work.
However, it appears likely that the longer term semigration to the Western Cape will continue as it remains the one province that is still able to deliver. For example, the ability of the City of Cape Town to keep businesses and residents at Stage 1 when Eskom has everyone at Stage 2, will reinforce its appeal. For those not able to afford a home in Cape Town metro housing market, the second tier and coastal towns in the Western Cape will remain appealing – not because of the Zoom Boom but on a permanent basis as desirable lifestyle destinations. These include, among others, areas on the Cape's Whale Coast such as Hermanus and Onrus and Boland towns like Somerset West, Stellenbosch, Franschhoek, Paarl and Wellington, as well as George on the Garden Route.
Are people looking to rent or buy? The shift from renting to buying was probably at its peak in 2020 as FTHB took advantage of the interest rate cuts. Now that the impact of those cuts is fading and the reality of the sluggish economy is being felt, the rental market is improving. Also, the need to be as flexible as possible in these extremely uncertain times will undoubtedly increase the appeal of rental. However, South Africa has a strong tradition of home ownership which remain intact, including first time buyers and those seeking value for money. On the Cape's Western Seaboard, we are experiencing a severe stock shortage up to R2.5 million for freehold properties and correctly priced homes sell within seven days. Meanwhile, in Cape Town's Northern Suburbs well-priced properties sell rapidly with the demand outweighing supply in some areas.
Estates remain sought after: Homes in estates remain in high demand and buyers will pay a premium for a sought after, secure estate – for example, Pam Golding Properties recently sold out a luxury development in upper Constantia comprising 12 homes priced from R10.5 million each, including VAT. In Water's Edge Estate right on the beach in Big Bay, we sold three homes priced from R14.5 million to R16.95 million in the past two months.
Multi-generation living : The need for flexibility amidst challenging economic conditions suggests that multigenerational living will continue to gain in popularity.
Going off the grid : Where affordable for homeowners , there is an ongoing desire to go off the grid, even if partially, with the installation of energy and water saving solutions which are now becoming the new normal amid rapidly rising costs of electricity and utilities coupled with poor service delivery, and partly because climate change is becoming a critical mainstream issue.
Outlook & Summary:
We remain optimistic regarding the country's residential property market, which is expected to remain active as the long-term appeal of this sector holds strong. This is especially so since, in addition to the usual reasons for movement in the marketplace, the lockdown has inadvertently created the rationale for a wave of new reasons for relocation and property acquisitions, from the aforementioned upsizing for additional space due to work from home scenarios to lifestyle moves to more appealing destinations further afield. If you can live and work anywhere, it makes sense to live somewhere with a better quality of life in a more desirable location.
With a population of predominantly 'young' buyers, many of whom are likely to prefer life in a city hub, the increasing demand for accommodation to buy is helping drive activity in the residential property market, filtering upwards across all sectors of the market, boosting activity in middle markets and higher price bands as some existing homeowners upscale, and even creating stock shortages in high-demand areas.
SA's Appetite for Offshore Property:
From an off shore property perspective, a significant milestone was achieved this year when our first clients successfully completed their journey through Portugal's Golden Visa Programme and in the process, received Citizenship in Portugal and consequently the EU – the main motivation being the ability to enable opportunities for their children to study, live and work internationally. In this regard, the rural and urban regeneration projects in Portugal have proven particularly popular of late, as they require a lower entry level investment of €280 000 (rural) and €350 000 (urban) with a defined exit strategy offering comfort for investors.
Eden Islands in Seychelles has enjoyed consistent sales through Covid and, with a population of approximately 96 000, Seychelles is one of the first countries in the world to be virtually fully vaccinated, which has assisted sales momentum, and we are in 2021 to date about 30% up on sales compared to 2020.We anticipate ongoing interest from a lifestyle, dollar based investment and offshore property purchase point of view, with more and more people able to work remotely allowing them the opportunity to live an island lifestyle for part of the year.
In Mauritius, our sales for 2021 to date have been very strong, especially from South Africans looking to secure permanent residency for their families and/or to retire permanently, as well as diversify their portfolios offshore. There is good demand for larger estates such as Mont Choisy Golf & Beach Estate in the north, renewed interest in the south west of the island in the Bel Ombre area for those looking for a luxury outdoor lifestyle, at Heritage Villas Valriche as an example, situated just outside the area of Le Morne. Both these estates have numerous facilities similar to the larger estates in South Africa which resonates with our client base. We also continue to see high interest in the areas of Grand Baie and Tamarin.
For further information contact Pam Golding Properties via headoffice@pamgolding.co.za or visit www.pamgolding.co.za.
Posted by The Know - Pam Golding Properties