Outstanding rentals at One on Whiteley, Melrose Arch's newest luxury apartments
One on Whiteley offers competitive rentals for modern lifestyle apartments
Tuesday 22nd of October 2019
Competitive monthly rental prices at the newly completed One on Whitely means that more people will be able to experience the unrivalled lifestyle of Johannesburg's iconic mixed-use precinct, Melrose Arch.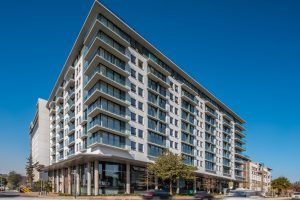 Unfurnished units will start from R14 000 per month for studio apartments, up to R40 000 for three bedroom units, while furnished apartments start from R19 000, going up to R45 000 per month. In older buildings, bachelor units start from R22 000 per month and can reach up to R60 000 for three bedrooms. In a few instances, penthouse apartments in some buildings have been rented for as much as R150 000 per month, says Danie Griffith, Pam Golding Properties Melrose Arch sales and rentals specialist.
"One on Whiteley provides a prime opportunity to live, work and play in an exceptionally safe and secure environment, at a more competitive rate than in many other places in the area. That is no doubt why we've seen demand from both investors and buy-to-live purchasers," says Griffith.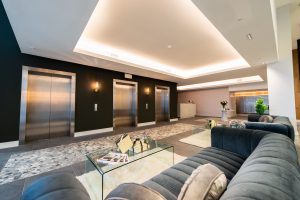 With numerous apartments to choose from within the precinct, there has been keen interest in One on Whiteley from those looking for modern apartments at competitive prices. "This is the ultimate residential address for buyers and investors because it offers an unrivalled lifestyle in a convenient location, close to the M1 freeway and other major arterial routes, within close proximity to OR Tambo International Airport, Sandton CBD, Rosebank CBD and Johannesburg CBD. In addition, the Gautrain bus also runs through the precinct making it convenient to commute to both Rosebank and Sandton."
The recently completed development has 241 apartments spanning eight floors, with only a few still available for sale. Apartments at One on Whiteley range in size starting from 43m2 studio units and 60m2 one bedroom apartments, to 86m2 two bedroom and 102m2 three bedroom units. Prices range from R2.520 million to R5.040 million. All apartments come with secure underground parking, and ground floor units have direct access to the private garden and swimming pool.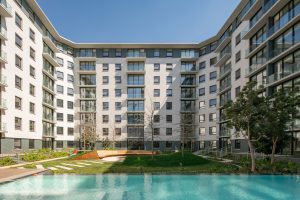 One on Whiteley apartments offer modern and upmarket finishes, integrated Smeg appliances, a full backup generator, biometric access control and CCTV, secure basement parking and a centrally controlled air system in all apartments. Its public spaces include a sundeck and heated outdoor swimming pool. The building has centrally heated constant water circulation ensuring residents only pay for the hot water that they use. Furthermore, there will be a five-star Marriott Hotel and Marriott Executive Apartments on-site, scheduled for completion during the first half of 2020.
Griffith says Melrose Arch has a wide range of retail offerings and a number of restaurants to choose from including the newly opened Tiger's Milk and Café Rio, along with more established names like Ghazal North Indian Restaurant, Jamie's Italian, Tashas, The Grillhouse and Paul Patisserie & Café.
For more information on One on Whiteley, please contact Danie Griffith on 082 553 0934 or email danie.griffith@pamgolding.co.za
Posted by Denise Mhlanga