Stand-out student development in Stellenbosch
Beau Vie provides peace of mind in a prime location
Monday 21st of October 2019
In a town where student accommodation is always in demand, a new development called Beau Vie stands apart from the rest because of its unique offering and prime location.
Situated on Banghoek Road, Beau Vie is not only well-placed on Stellenbosch University's Green Route, which affords additional security for students in the area, but it is directly opposite the Engineering faculty. And, as if being able to live on campus was not enough of a drawcard, this chic development also includes one-bedroom apartments, instead of the bachelor or two-bedroom units usually offered to students. With only 18 apartments in the development, Beau Vie offers exclusive living for the discerning student.
"Safety is one of the top criteria for students, and their parents, when it comes to buying or renting an apartment in Stellenbosch," says Louise Varga, Pam Golding Properties area manager for the area. "Parents want peace of mind, knowing that their children will be able to move safely from their apartment to campus. Properties that are therefore located on the university's demarcated "Green Route", which has security patrolling on foot and bicycle, are highly sought after and can command prices of around R66 000/m2."
Parking is a scarce commodity in Stellenbosch and accommodation that is, quite literally, on the doorstep of one of the university's largest faculties, is an added bonus for potential buyers, says Vanessa Johnson, Pam Golding Properties agent for Stellenbosch. Few of the new residential developments in the town offer one bedroom apartments, but Beau Vie has 16, selling for from R2.37 million, including vat. The remaining two bachelor units are R1.995 million, including vat.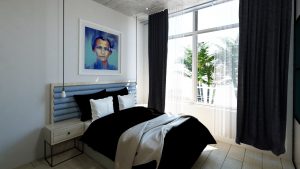 Beau Vie reflects the needs of the modern student, with its modern architectural lines and glass interior partitioning, says Johnson. Concrete ceilings add to the industrial feel of this stand-out development. Each unit comes with a combination of fridge/freezer and washer/dryer, as well as a microwave. There is biometric access control and a security wall with electric fencing. Students will also have a safe communal space to socialize, as there is a rooftop entertainment area with an undercover braai. Secure parking is also available.
"With its bold design and clean lines, Beau Vie is set to become a highly desirable "it" address for the young and trendy. – Vanessa Johnson
Johnson adds:  "Close to campus, it is also within easy reach of many of Stellenbosch's attractions; including the Botanical Gardens, the Dylan Lewis Sculpture Garden and the many wine farms, gin distilleries and craft breweries in the area."
Being a university town, much of the development in Stellenbosch takes place close to the university. Student accommodation is a massive driver of the residential property market, considering that of the more than 30 000 students registered annually (2018 data) only 6 500 students can be accommodated in the university's 31 official residences.
Historically, residential properties in student towns around the world achieve a higher capital growth compared to the national average. "This is partly due to impact the influx of students has on the population, which in turn fuels the sustained rental demand," says Varga. Sectional title property prices in Stellenbosch have therefore increased by 41.6% in the past 10 years (2009-2019).
Varga adds: "Accommodation located close to learning institutions can be rented at a premium and occupancy is usually at over 97%. Developments such as Beau Vie, which combine safety and location in a beautifully-designed package, set themselves apart from what is usually available, and are therefore guaranteed to yield considerable capital growth, year-on year.
Contact Vanessa Johnson: 082 588 7007 or vanessa.johnson@pamgolding.co.za
https://www.pamgolding.co.za/property-development/stellenbosch/beau-vie
Posted by Anel Lewis