A Heritage home is much like a well-matured wine
There is a very specific buyer for heritage homes – not your everyday buyer looking for a modern, contemporary home, but someone who likes the look, feel and even the particular scent of an older home, steeped in history. Much like a well-matured wine, in fact, says Pam Mullany, an agent for Pam Golding Properties.
And when it comes to Cape Dutch homes, the Western Cape has not entirely cornered the market. With its fair share of grand mansions, KwaZulu-Natal is also home to numerous houses built in this striking architectural style.
"For some buyers, there's a great deal of appeal in acquiring a heritage home, where you can immerse yourself in the history of the property and feel proud to take ownership of a home built with the high standards of days gone by and which has baronial-size rooms. If it is in good condition, some buyers will also be prepared to pay a premium to take ownership of a unique property."
Now on the market for R6.9 million (and ideal for use as a spacious family home) is a property named Morgenzon, which is Dutch for morning sun. This expansive residence is located in the prestigious Kloof Country Club area in the Upper Highway region, just 20 minutes from Durban's CBD and beaches, and 30 minutes from Pietermaritzburg and the KZN Midlands.
This was the first house in the immediate area and appeared on early aerial survey photos. The historical Cape Dutch architecture, dating back to 1947, and spectacular gardens have been retained. The current owner purchased the property in 1994. Comprising two acres at that stage, and bordering the golf course, the home was originally three-bedroomed with a single garage at each end.  In the late nineties it was subdivided and the owner sold off the front section and renovated the house extensively, adding two en-suite bedrooms, a large lounge, study, a pantry and scullery, swimming pool and triple garage, and enlarging the kitchen.  This also entailed adding two new gables to the front section and two new side gables.
Set on an erf of 4 400sqm with buildings of 660sqm, the home today includes a total of five en-suite bedrooms, a huge fitted kitchen, stained glass feature window, grounds landscaped with indigenous plants, private pool and Jacuzzi area, separate self-contained one bedroom cottage, three garages and four carports.
Another grand heritage property currently on the market in Kloof is a beautiful six-bedroom, 852sqm mansion with spacious rooms, high ceilings with character beams, cosy fireplaces and a sweeping staircase – ideal as a character-filled family home, B&B or guesthouse. Including two cottages and staff accommodation as well as a pool and tennis court, the property is priced at R6.8 million.
Says Mullany: "This home is situated on in a lovely part of Kloof, opposite one of South Africa's most illustrious private schools – St Mary's Diocesan School for Girls.  The road next to the house is named after one of the previous owners, Dr Ellis.  He donated the sports field above the house to St Mary's School, hence the naming of the road between the house and the sports field 'Erasmus Ellis Road".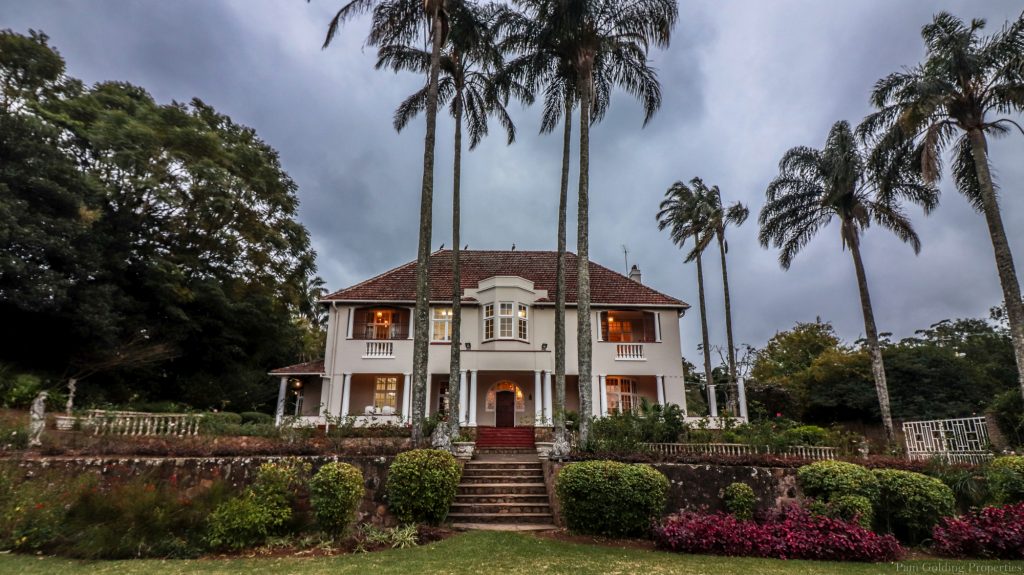 Did you know? In order to make any changes to a home older than sixty years in KZN you need to apply at AMAFA / Heritage KwaZulu-Natal, the provincial heritage conservation agency for the region, which administers the permit process for demolition and alteration of protected structures.
For further information regarding these properties contact Pam Golding Properties Kloof.
Posted by Jean Scheltema