Sneak a peak of this luxury Green Point development
Show unit offers tantalizing preview of 169 On Main
Wednesday 16th of October 2019
Experience the luxury of bespoke design by visiting the newly completed show unit at 169 On Main, a luxury development in the heart of Green Point.
Comprising 11 floors, and 50 masterfully curated apartments, 169 On Main offers an enviable way of life in one of the Atlantic Seaboard's most sought-after suburbs. "Equidistant from vibrant Sea Point and Cape Town's CBD, 169 On Main on Green Point's Silver Mile offers the ideal home for young working professionals who want the most out of life when it comes to work, and play and for those who wish to scale down in size by living in uncompromised luxury with security for peace of mind," says Laurie Wener, Pam Golding Properties senior executive for developments.
"Green Point is one of the gems of the Atlantic Seaboard because of its excellent location close to the V&A Waterfront, CBD and many of the attractions that make Cape Town a top destination. The Green Point Urban Park is nearby, as is the popular Sea Point Promenade. Amenities in the area include a host of bars and restaurants – many of them al fresco to maximize the sea view – as well as the Virgin Active Gym and other sporting venues," says Farrel Kelman, Pam Golding Properties agent for the area.
"The show unit allows prospective buyers to experience 169 On Main, which is still under construction and due for occupancy in July 2020. The interior decor and styling has been done by Bone Interior Design Studio in collaboration with Dot Designs, experts in design for luxury developments, says Minette Munitz, Pam Golding Properties agent for Green Point. Abacus, as the developer for the project, works with Bone to create customized living spaces for those who want it.
Says Kelman: "Each aspect of the fittings has been carefully considered and the design elements have been inspired by European Design fairs and local knowledge. From the integrated SMEG appliances to the engineered oak floors in the living areas, attention to detail and conscious design has resulted in a bespoke, luxury experience." The clean lines, aluminum panels and abundance of glass, as well as the natural tones for the interior, are in keeping with the surroundings of this residential strip. Once the site of a vacant lot, 169 On Main is a welcome addition to the streetscape.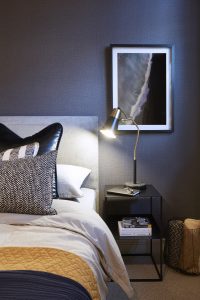 The demand for rental accommodation in Green Point means that developments such as 169 on Main offer considerable returns on investment, says Kelman. Just over 77% of all properties in Green Point are sectional title units, with almost half of the apartments sold in the past year (July 2019 to September 2019) being above R3 million.
Apartments at 169 On Main start at R4.75 million vat inclusive for a two-bedroom unit. There are also three-bedroom units and one penthouse unit on the 11th floor. State-of-the-art security, 24-hour concierge and secure basement parking all guarantee the levels of security expected from an upmarket development such as 169 On Main. While the beach and Promenade are within walking distance, 169 On Main also offers a rooftop pool for exclusive relaxation, boasting incredible sunset views. Short- and long-term lets will be possible, making this an ideal buy-to-let investment prospect.
"There are still a limited number of prime units available," says Munitz, "and a visit to the completed show unit will enable interested buyers to experience a taste of life in this bustling hub on the Atlantic Seaboard."
For more information, contact Pam Golding Properties agents Farrel Kelman: 083 501 5015 and Minette Munitz: 082 457 2978
Posted by Anel Lewis