St Francis Bay – Recent Sports & Charity Events and Other Activities
Tuesday 23rd of July 2019
14km swim, the Kromme Descent – May 2019
Our annual 14km swim down our river, the Kromme Descent, was held in May in perfect weather. Day 1, the 6km section from the top to the island in perfect conditions, and although the water was a slightly chilly 17 degrees, the 110 swimmers enjoyed the beautiful surroundings.   Haydn Holmes gave his customary speech afterwards (see the video) while we enjoyed a few St Francis Brewery Beach Blonds and a great braai. Day 2 was 8km from the island to the cove, very tiring, especially with no help from the tide for the first few km's. It was organized once again by Kevin Richards (Blu Smooth wetsuits), Haydn Holmes (Liquid Lines), Duncan Edwards and many others, and has become over the last five years part of St Francis life. Although it's all about finishing (I think), the winners were: Gary Albertyn and Brad Reen, Antonelle Supporta and Lindi Humphreys, and Mickey Lindsay and Megan Albertyn.
---
SA Longboard Surf Champs at Seal Point – May 2019
Day 1 of SA Longboard Surf Champs at Seal Point was a beautiful day but small surf. I was lucky to get two reasonable waves, finishing third out five in my heat. After great surf but lots of fog on Day 2, Day 3 was a beautiful day with reasonable swell and light onshore wind. My luck held: after our heat was cancelled halfway at 5pm due to late afternoon fog (just after I'd had a nice wave!), it was postponed again due to fog at 7.30am the next morning (Day 4), and was finally held at 10.30am … another lucky third place, and I sneaked into the Quarter Finals, where my luck run out! Nevertheless, the Eastern Province team won the SA Champs.
---
Jordy Smith surfs Bruce's Beauties – June 2019
Jordy Smith surfed Bruce's on 27 June 2019 .. for the first time!  .. along with local hot-shot Dale Staples.
---
The amazing St Francis Animal Rescue team
A two minute glimpse of what the amazing St Francis Animal Rescue team (including Pam Golding's Christelle Van Wyk and Krystal Scott) do every Thursday afternoon.
---
Wonderful upgrades to the Disney Creche, thanks to the Flash Float
If you floated (along with 2000 others) in the Flash Float in January on the canals, you will be interested to know that of the R84,000 raised, half went to Talhado School in Sea Vista, and half to some wonderful upgrades to the Disney Creche, also in Sea Vista. In the video, you will see the three organisers of the Float, Cathryn Hempel, Clairwen Praetorius and Jane Arderne at the celebration in May, with Neil Grobler explaining the upgrade, and the kids (and adults) enjoying some cake. Our Pam Golding office, who have been assisting the creche with maintenance for 12 years, also managed this upgrade.
---
The 100km Steytlerville to Patensie "road" – May 2019
After 14 years in St Francis, in May we finally braved the 100km Steytlerville to Patensie "road", where one 20km section took us two hours. We only saw four vehicles the whole day, all at the same point at Grootrivierspoort, where we were treated to an unexpected braai roadblock! Great views of the Cockscomb all the way, and some rather precipitous sections. Plus a night at the Karroo Theatrical Hotel, outside Steytlerville.
---
St Francis Paddling Club's Churchill Dam paddle
St Francis Paddling Club's Churchill Dam paddle, 15km from the top of the dam to the wall and back. aka the Kromme River Dam, one of PE's main supply dams, about 50km from St Francis, near the R62 on the way to Kareedouw, 100% full … but the much bigger Mpofu Dam, also on the Kromme is only 30% full. The Churchill filled from 16% to 100% in a few days in early September last year.
---
St Francis Cycling Club rode to Oyster Bay – May 2019
Nine of us (incl two ebikes) from St Francis Cycling Club rode through the Eskom property in May to Oyster Bay, a beautiful ride but a bit sandy after the dry weather (my third time within a few weeks). We rode back on the road, in 32 degree heat. 4hrs for 42km, with a long coffee stop with an amazing view of Oyster Bay. (also the fundraising campaign to build more cycle tracks)
---
Floodlight Pam Golding team bowls – April 2019
Such a fun floodlight Pam Golding team bowls evening in April, although a little cool. Despite my fine style, my results were poor, and the winners were Charl Blaauw and Emily Obray. Thanks to the club, especially Toby.  A highly recommended evening.
---
The Sand River walk – June 2019
300m from my office to the Sand River, where I recently enjoyed a mid-winters sunny afternoon walk. A few years ago I walked with one of my sons the whole way on the dunes to Oyster Bay, a magnificent 20km dunefield. Also a few photos taken further, looking down at the Kromme, at the mountains, at the village, and the river mouth. The one with the red marks when it was nearly dark shows the river, the Humansdorp lights and the Cockscomb mountain.
---
The Pam Golding Properties King of the Kromme – April 2019
World Marathon Champion Andy Birkett is the Pam Golding Properties King of the Kromme 2019. He finished two seconds ahead of Bevan Manson, with young Jordy Malherbe third, a clean sweep for East London. And Queen of the Kromme is Andy's wife Nikki Birkett! Pete King took the Carbonology lucky draw paddle.
The 14th annual race was held on Easter Saturday 20 April 2019, starting at 2pm at Quaysyde.
The 20km route was as usual through the canals for 1km and then up the beautiful Kromme River for about 8km until the Geelhout tributary for a further 2km to the turn. Paddlers cherish this once-a-year opportunity to paddle this particularly special stretch, with indigenous bush right up to the banks, and the river becoming ever narrower, until it is only about 8m wide at the turn. Then back the same way, with a sprint finish at Quaysyde in front of hundreds of spectators.
The main prizes were R2000 for the long course (20km) singles winner, R1000 for 2nd, R500 for third. St Francis Paddling Club Chairman Pete Mitchley ensured gender equality by increasing the prize for the winning lady to match that of the winning man.
It is a singles race, but doubles are always very welcome. There is also a 12km short course, also with plenty of prizes.
The entry fee included a sumptuous meal from Quaysyde and a St Francis Brewing Company Beach Blonde.
It was won last year by multiple world paddling champion Jasper Mocke, and before that a number of PE paddlers: Greg Louw (twice), Luke McNish, Scott Johnson, Calvin Zeelie and Jordan Blake Zeelie. Other winners have been Matt Bouman (Durban), Júan Maree (Cradock) and Dave Hamilton-Brown (Joburg).
Who will be crowned KING OF THE KROMME 2020?
---
Pam Golding Properties Canals Winter Challenge – July 2019
St Francis Paddling Club's 20km Pam Golding Properties Canals Winter Challenge was held on Sunday 21 July, a beautiful calm sunny morning, with Greg Louw and Riccardo Talevi taking the trophy, narrowly beating locals Phil Smith and Stephan Vorster. In third place and first mixed double was Bevan Manson and Carol Reeves. Ladies winners (with equal prize-money) were Tracey Campbell and Megan Alderman. The 10km short course was won by Richard Arderne and Nielen Beyers, with Pete and Oli Mitchley second. Ladies winners were Stephanie Ernsten and Penny Hulett, with over 60's won by Richard Poole and Frank Dabrowski. Thanks Anita Dabrowski, Catherine Mitchley, and Charles Jonsson for time-keeping and Jane Arderne, Brian Wells and Gavin Harvey for the photos.
---
Madiba Day 67min "Extreme Golf" for Talhado School in Sea Vista – 18 July 2019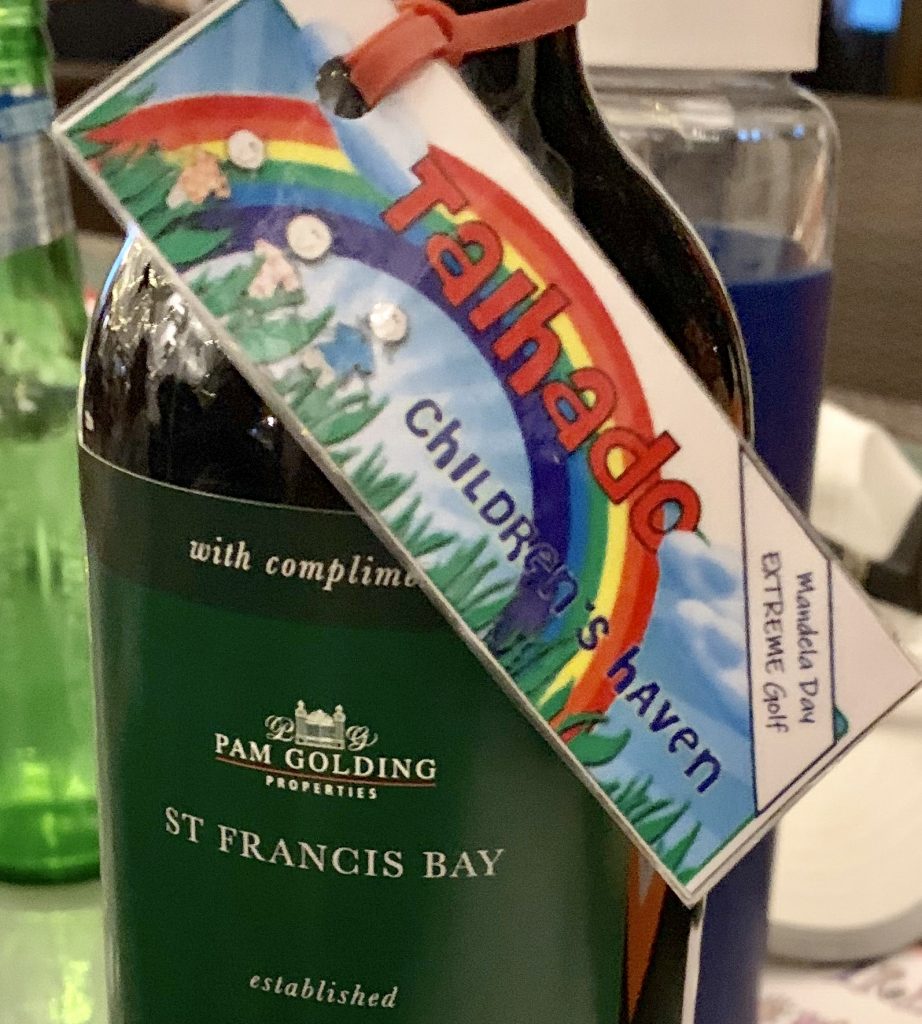 Thanks Christo Krugel, St Francis Links pro golfer for this video (and commentary!) of Team Pam Golding playing the 6th hole on Thursday in the Madiba Day 67min "Extreme Golf" for Talhado School in Sea Vista. Well done Cathryn Hempel and Christina Tancredi on raising over R100,000, and to my talented team: Saria Blaauw, Jancke Beer and Neil Fox.
---
Sunset Rock, Cape St Francis: best sundowner spot in SA.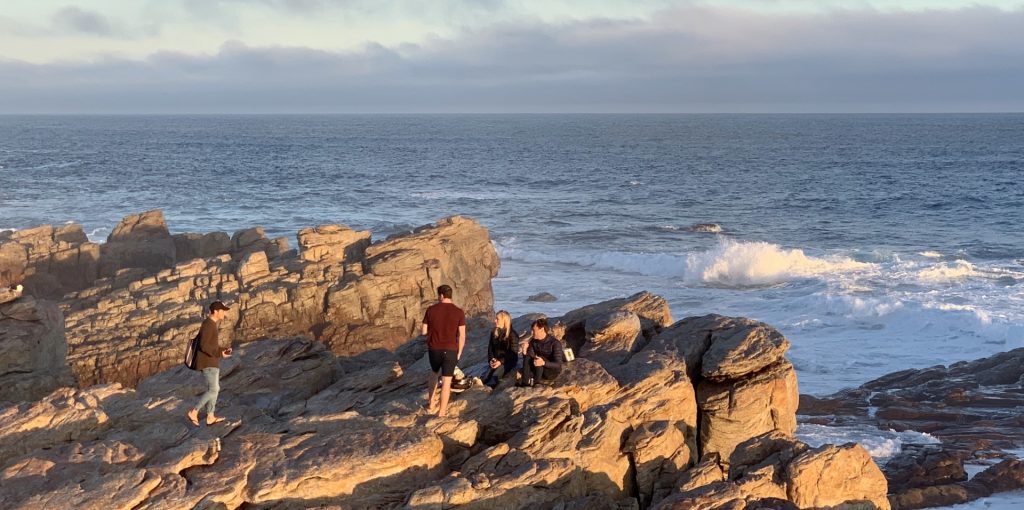 ---
Winter Solstice Swim on the canals, 21 June 2019 . 1km (or more) every Friday at 5pm, initiated by the late Garth Perry.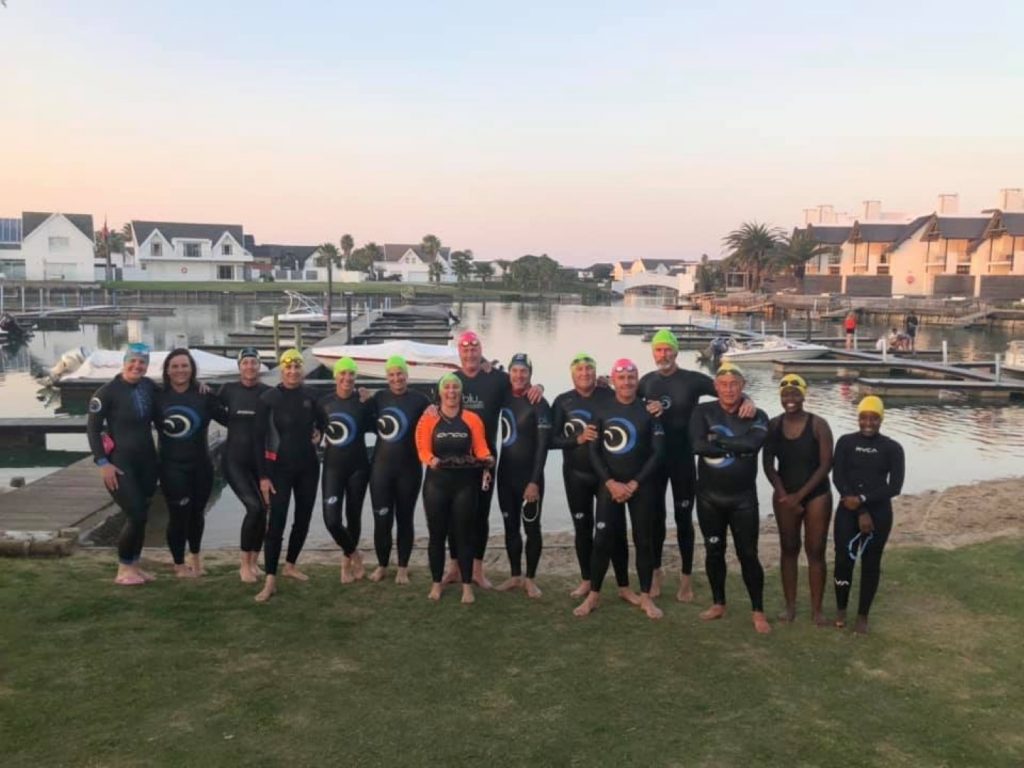 Posted by The Know - Pam Golding Properties